Arsene Wenger has clarified the situation surrounding Alex Song, with the Arsenal manager insisting that Spanish newspapers have got it all wrong in their assertions that he's spoken to Barcelona.
Song has been the subject of a great deal of speculation lately, with the defensive midfielder believed to be in high demand after admitting that there had been interest in his services.
But Song insisted that he wasn't concerned with the rumours, telling Sky Sports: "I am not going to lie if I said there is no interest but I am at Arsenal and I am happy at Arsenal."
And now Wenger has moved to further quash reports coming out of Spain that Song may be set to exit the Emirates, insisting that with a long-term contract, his future is assured.
"There's nothing going on with Song. There's nothing in that," the Frenchman told the Sun.
"Song has three years contract he's not in the same situation as Robin Van Persie. In Spain the newspapers are not really serious. We've had the experience of that.
"We've never had any contact with anybody from Barcelona."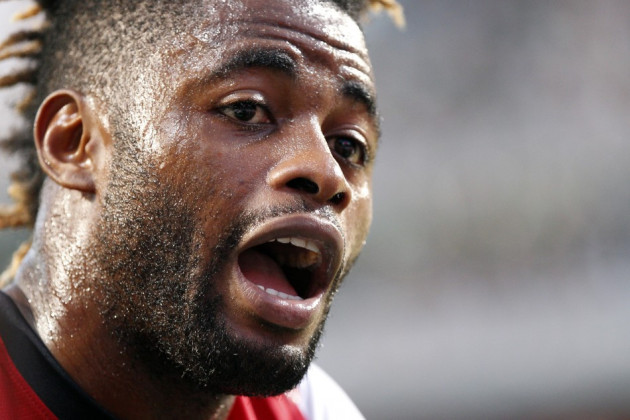 The Arsenal manager has not had the most positive relationship with Barcelona or the Spanish newspapers, with the Cesc Fabregas transfer saga lasting years as Wenger struggled with the continual push from the Spanish side to bring the Gunners captain back to the his home town.
With a great deal of speculation surrounding the future of Robin van Persie, Wenger is clearly not keen on having to field questions surrounding Song's future as well.
Theo Walcott is also in the final year of his contract, though the last time the winger spoke he, unlike van Persie, insisted that he hoped his future would be with Arsenal.
"It was always going to be [a case of] hold back until the end of the Euros," he said. "We continue to talk and we'll just see where it goes. I didn't have a clue about any other clubs, anything.
"I'm an honest guy. I like to get on with my job. I've got to work on pre-season, I don't want any distractions.
"Like I say, my agent and the club will continue to talk and when there's something to know I'll get involved."