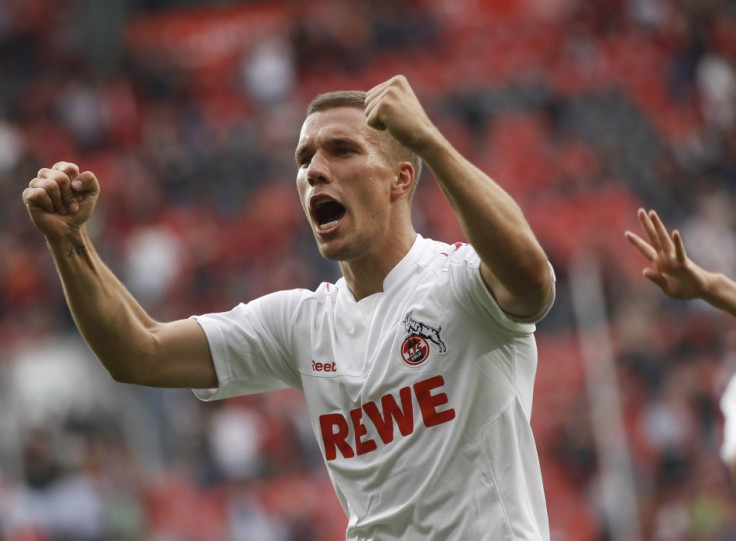 Arsenal target Lukas Podolski has entered into a war of words with Borussia Dortmund, after the club insisted that they wouldn't make a bid for the striker because he was 'too expensive'.
Podolski is the subject of a great deal of transfer speculation coming up to the January window, and after the 26 year old admitted he might exit Cologne, and praised the Gunners, a move at some point in the next year looks likely.
Dortmund were also said to be interested in Podolski, but club manager Jurgen Klopp has said that he believes that the hitman is too inconsistent to fit into his side, based on the wages he'd demand.
"I think he is hyped up so much in Cologne that it is hard for him to perform regularly," Klopp said.
"With his potential, he should be one of if not the best striker in the Bundesliga, but he isn't and that is because he does not perform to his best often enough.
"That makes him too expensive for us - to have him only perform every other week."
But Podolski has hit back at the comments, revealing that he has turned down offers to go to the side in the past.
"Perhaps Klopp is a bit sad because I turned him down twice," he explained to Bild.
"I'm really too expensive for Dortmund because after exiting in the group stage, BVB are without Champions League revenue."
In the past, Podolski has offered praise to Arsenal, with the Germany international telling reporters at the start of this month: "Arsenal are a top club. They have a good team and play right at the top level in England."
Arsenal are on the lookout for a striker, with Marouane Chamakh and Gevrinho set to leave the Gunners in January for the Africa Cup of Nations, and Chamakh is threatening to leave permanently if he doesn't get more game time at the Emirates.
But while the £20 million-rated star could be the subject of a great deal of interest as early as January, he insists that he wants to stay with Cologne for the time being at least.
"I still have a year-and-a-half contract," he maintained. "If the club do not want me in the new season, I might play in the second team or sit in the stands."