Brazilian goalkeeper Julio Cesar could be set for a move to Arsenal in the summer, with the keeper's agent confirming he will exit Queens Park Rangers after the side's relegation was assured last weekend.
While it was always going to be nearly impossible to climb out of the drop zone after the Christmas period, Rangers' goalless draw with Reading left both sides relegated to the Championship next season.
Arsenal are believed to be in the market for a keeper, with Wojciech Szczesny failing to impress for the north London club this season, and Cesar's agent says he will look to stay in Europe and pick the club that can offer him the best challenge for next season.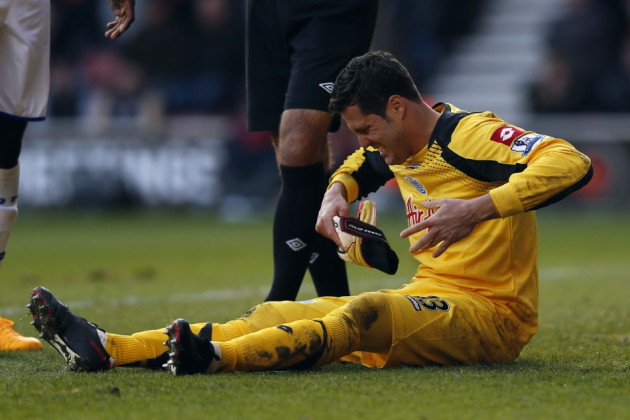 "I'm coming to Europe to talk to Julio about the future," Josias Cardoso said, according to Metro. "He is looking for a new team with potential.
"Going back to Brazil? I don't think so - I see him having a future in Europe."
Arsenal would be looking at a price of around £5 million if they were interested in the Brazil international, while AC Milan are also believed to be monitoring the situation.
QPR will no doubt be having to let a host of players go in the summer after the side failed to recover from a terrible start to the season and save themselves from the drop.
Tony Fernandes made his feelings of discontent with some of the players clear after their relegation was confirmed, telling reporters: "It was probably the low point for me when I saw the reaction of some of the players. It has shocked me because it is something that is alien to me.
"It's an alien concept to me that someone takes someone's salary, doesn't put 100 per cent in, thinks: 'Oh, we lost. No big deal. What club are we going to tonight?' That is an alien concept to me.
"It wasn't right to say anything during the season, but I noticed everything and I am a little bit wiser for it now."
Arsene Wenger is believed to have a transfer kitty of around £70 million this summer, and if the Gunners manager is in the market for a keeper Cesar could offer both Premier League experience and a price which is affordable compared to some of the top international keepers across the world.