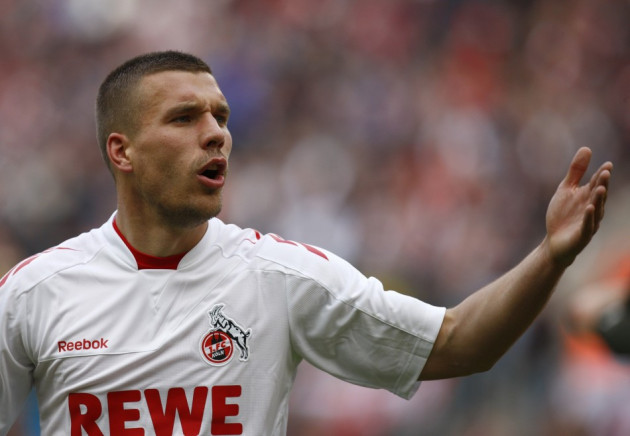 Lukas Podolski has called on his new Arsenal teammates to end their trophy drought and revealed he rejected offers from a number of top European sides to complete an £11m move to the Emirates.
The Gunners announced on Monday that Podolski would arrive in north London after this summer's European Championships. He accepted a four-year deal worth a reported £100,000 a week and the Cologne forward said he is looking forward to working with Arsene Wenger next season.
"The target must be to win titles over the next couple of years," Podolski is quoted in the Daily Mail. "That is a given when you join a club like Arsenal, and I believe I can help make it happen.
"Arsenal are a good fit for me, and that's why I didn't consider the other offers.'
Wenger, who admitted on Saturday that his Arsenal side have been too reliant on captain Robin van Persie this season, said he was thrilled to secure Podolski's signature and believes the German international can become a vital part of the club's long-term future.
"He is a top-class player, a very good finisher and a proven performer at club and international level," Wenger is quoted in the Telegraph. "He is a very strong player and will provide us with good attacking options.
"We are happy to have made this signing early and we're looking forward to watching Lukas contribute at the European Championships over the summer, a level where he has already made 95 caps at the age of 26 - a phenomenal record and just shows his quality as a player."
Podolski, who began his career at Cologne before re-joining them from Bayern in 2009, told their official Web site: "The move to Arsenal provides a great opportunity for me to gain experience in international competitions at a top European club.
"I have made this decision not against Cologne but for this great opportunity and the good of my own individual development.
"This was not an easy decision for me at all, as Cologne, our fans and the city are something special for me. I will always carry Cologne in my heart."