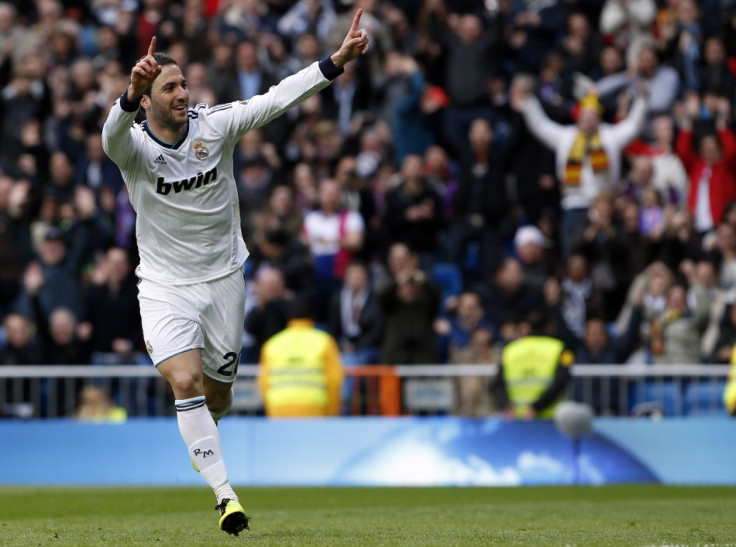 Real Madrid president Florentino Perez insists there have been no offers for Gonzalo Higuain, despite recent reports claiming Arsenal had made their interest in the striker concrete.
Higuain has been a top target for Arsene Wenger in the lead up to the summer, with the manager reportedly handed a huge transfer budget in the window to build a squad capable of challenging for trophies once more.
Arsenal's lack of depth has been credited with the reason why they haven't competed with the Manchester clubs in recent seasons, and Higuain would certainly offer an alternative attacking option for Wenger. But Perez insists that there has been no offer, and if there is it will need to be no less than the exit clause.
"Real Madrid has never put Higuain up for sale. He said he would go, but there are no offers." he said in an interview with Punto Pelota .
"If you want to leave this club, you should know that we must respect one thing: pay the exit clause. And it is not easy to leave a club if you do not want to do that. "
Higuain had claimed this week that he would be leaving Madrid in the summer, name-checking Arsenal as a possible destination despite interest from Liverpool as well.
"I have more or less made a decision about which club I want to join," he told reporters.
"I have made the choice for sporting reasons above all. Arsenal? It could well be them.
"There would be competition for places, but you get that at all big clubs and it does not stop me making my decision.
"I am still young, but I have always set myself targets and I do everything possible to exceed them."
While Higuain has insisted he wants to leave, it looks likely that he will only be able to do so for top dollar, which could be above Arsenal's reported plans to offer a club record amount of £19m to secure the Argentine.