Arsenal are preparing a £1.5m bid for Brazilian goalkeeper Julio Cesar. The Telegraph believes the Gunners have scouts at the 2013 Confederations Cup, where the former Inter Milan No 1 is set to start in Sunday's final against Spain.
Arsene Wenger is believed to want a new senior goalkeeper to provide cover, competition and training for Polish internationals Wojciech Szczesny and Lukas Fabianski, both of whom were inconsistent and were rotated throughout the 2012/13 season.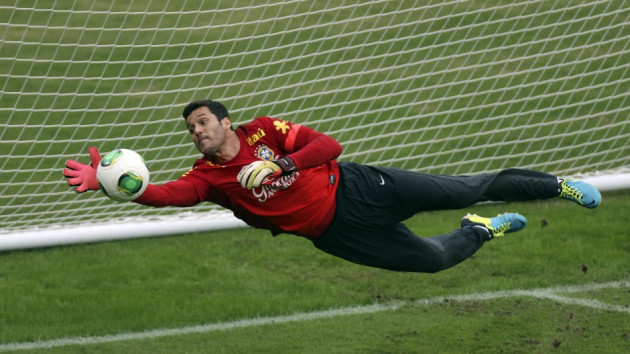 The Emirates side is reportedly also tracking Liverpool's Pepe Reina and Stoke City's Asmir Begovic, but is expected to run into problems with transfer valuations. The Independent believes the Potters' No 1 has been valued at £12m and the club's chairman, Peter Coates, has confirmed that matching his goalkeeper's price tag is a prerequisite for any transfer discussion.
However, given Premier League champions Manchester United and their cross-town rivals Manchester City have also been linked, the Gunners may face serious competition for the Bosnian. Liverpool were also linked with Begovic but will have dropped out of the race after signing Simon Mignolet from Sunderland.
In any case, the signing of Begovic does not quite fulfil Arsenal's needs. At 26, the Bosnian is an experienced international but not sufficiently more so than Szczesny, who has 13 caps to Begovic's 20.
As for Reina, the Reds' No 1 was earlier linked with Spanish champions Barcelona. However, in the wake of Victor Valdes' commitment to remain with the Nou Camp side till next summer, the Madrid-born Reina will probably stay at Anfield for another year. Whether he remains first choice, after Mignolet's arrival, remains to be seen and that development could play a key role in his future next summer.
Either way, Cesar is likely to be viewed as the best option available. He is 33 years old, has considerable experience from his seven years in the Serie A, has won five Italian league titles and the Champions League and will be available on the cheap.
There is also interest in the Brazilian from Italian club AS Roma. Goal.com believes the Romans are keen on signing him but anticipate trouble in agreeing a personal package. For his part, Cesar is keen to remain in the Premier League and, in particular, London.
"I would like to stay in English football because I enjoy London a lot, it's a great city to live in, I love the Premier League. But I would like to just think about the Confederations Cup. It's a good moment to do a good job for the national team. I would like to be focused on that," he said.