Arsenal are set to face a battle to keep Lukas Podsolski at the Emirates next summer, with Atletico Madrid and Juventus planning to make a move for the forward at the end of the season, according to The Sun.
Podolski moved to Arsenal for a fee around £11m during the beginning of the season, but his work ethics has raised the ire of the manager, who has relegated him to the bench in recent games. The Germany international is currently suffering from an ankle injury and is set to miss Arsenal's Champions League Round of 16 second leg at the Allianz Arena on Wednesday.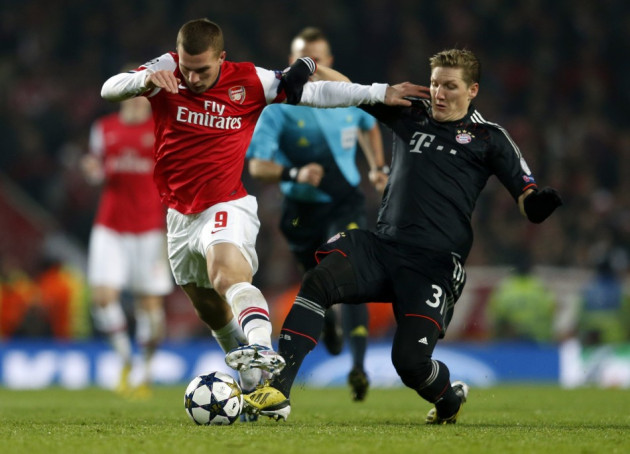 The report claims Juventus are favourites to land the 27-year-old for a fee in the range of £15m. The Italian Champions are also capable of bettering the £100,000 a week salary he is earning at Arsenal.
However, in spite of falling out of favour with Wenger, Podolski's season has been far from disappointing, with 13 goals and 11 assists to his name from 29 starts. The German also scored the only goal for Arsenal in their 3-1 defeat to Bayern Munich in the first leg at the Emirates a few weeks back.
Jenkinson: Champions League is the Pinnacle
Arsenal full-back Carl Jenkinson believes the Champions League is the "pinnacle of football" and insists he enjoys every second of it. The 21-year-old is in contention to start at the Allianz Arena, with first-choice right-back Bacary Sagna being an injury doubt.
"I've learned and realised that the Champions League is just the pinnacle of football. When I was growing up watching the Champions League, it's the competition you dream of playing in. The build-up, the song that's played before the game that sends shivers down your spine, everything about the Champions League is just classy," Jenkinson said.
"It's where you want to be as a footballer. I love playing in it. I've been lucky enough to play a few games in it, and I've enjoyed every minute. I used to go to games when I was younger, and I'd be at school telling my mates I'm going to the Champions League tonight - it's just a big buzz," the defender added.