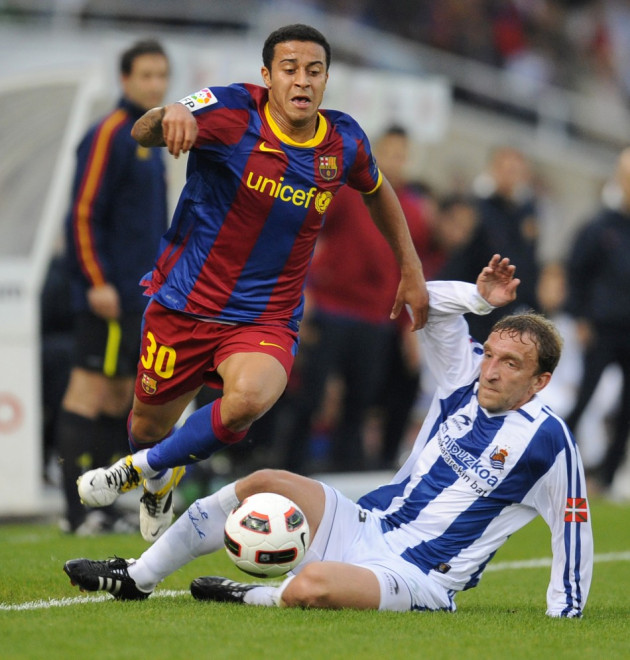 Arsenal midfielder Samir Nasri has spoken of the "privilege" of being linked with a move to Old Trafford, as Arsene Wenger struggles to convince his two most consistent performers to stay.
In a move unlikely to be welcomed by Wenger, Manchester United's Patrice Evra told reporters he has attempted to persuade Nasri to reject Manchester City in favour of United, and hinted at the French international's frustration with life at the Emirates.
"Of course I would like to see Samir at United," Evra is quoted in The Telegraph as saying. "I've talked a lot with him during the holiday and told him how great it is to play for Manchester United and how important it would be for him to become one of the biggest players in the world."
United have already had one £20m bid for the 24-year-old turned down, with Wenger determined to keep hold of Nasri, despite the midfielder having entered the final 12 months of his current contract.
"He said that it's a privilede that a club like Man United want him, but that he has to think about his future and talk with his agent," Evra added. "I'm not Nasri, I'm not his agent or his dad, but I would definitely tell him to come to Man United. Definitely.
"I remember I made that little joke saying that he's a prince now, but if he wants to be the king then he has to join Man United. But that's the reality and I've told him that. I said: 'If you want to win trophies you have to come here.' In five years I've won 12 trophies, and I don't know if I'd have won more with another club."
Meanwhile, Arsene Wenger reacted angrily to suggestions Manchester City attempted to 'tap-up' Nasri and suggested the rules surrounding the practice should be reviewed.
Asked whether he believed City had violated FA regulations, Wenger said, "I would like to return the question to you - what do you think? We live in a realistic world. I do not want to assess what I cannot prove. I know how things happen.
"It doesn't necessarily go through the player or the agent but I think it is a rule that has to be reviewed. It's not really respected."
Cesc Fabregas saga
Fabregas sat out Arsenal's 2-1 win over FC Cologne in Germany over the weekend, as negotiations continued over his proposed move to Barcelona.
Reports today suggest the Gunners will accept less than £40m for the 24-year-old if Barcelona include the highly-rated midfielder Thiago Alcantara in the deal.
Barca vice-president Josep Maria Bartomeu remained in London over the weekend as the two clubs attempt to finalise a £33.5m deal for the Spain international.
Wenger is keen to resolve the Fabregas deal before the club host the Emirates Cup this weekend, as the Frenchman attempts to replace his captain before the start of the new campaign. Reports suggest Wenger is prepared to break the club's transfer record with £20m moves for Valencia's Juan Mata and Villarreal's Santi Cazorla if Fabregas joins Barca.
Mata, a left-winger, is valued at £25m by Valencia while Cazorla, 26, is also wanted by Malaga.
Transfer round-up
Arsenal will submit an improved £15m bid for Everton defender Phil Jagielka, according to the Daily Mirror. The Gunners had a £10m bid rejected last week, with Toffees boss David Moyes adamant the England international is worth closer to £20m.
The same reports suggests Wenger is also interested in West Ham midfielder Scott Parker, who could be available for as little as £7m.
Meanwhile, Arsenal could "hijack" Chelsea's bid for Anderlecht striker Romelu Lukaku, according to weekend reports.
Lukaku has been likened to Cote d'Ivore forward Didier Drogba and is valued at around £18m.