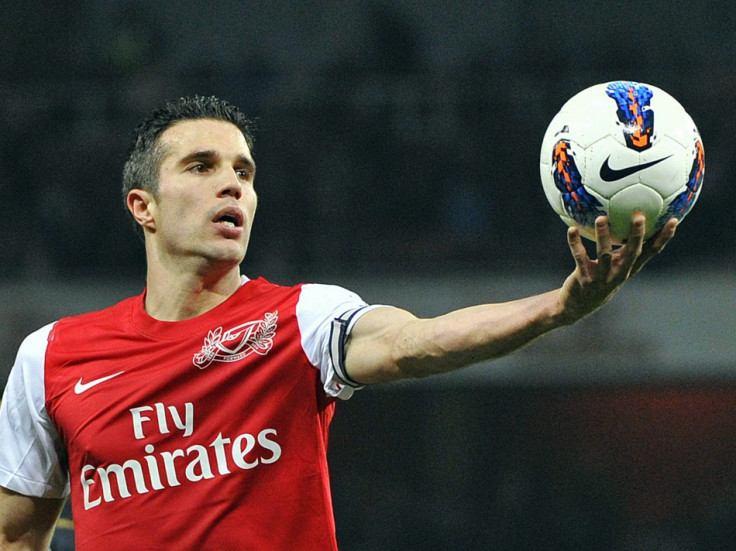 Arsenal remain hopeful they can persuade wantaway Dutch striker Robin van Persie to reconsider his decision to not sign an extension to his present deal with the Gunners. The striker, who was almost single-handedly responsible for the club securing a Champions League place for this season, is in the final year of his contract and earlier released a statement on his Web site indicating, after careful consideration, he would not sign a new deal with Arsene Wenger's side.
The entire saga involving van Persie, Wenger and the club itself has rumbled on for most of last season, amid continual speculation about interest from both Manchester clubs, Juventus and La Liga giants Barcelona and Real Madrid. The London club made van Persie the offer a contract before the 2012 European Championships started in June. The Daily Mail reports it was a substantially improved contract - a three year contract speculated to be in the region of £130,000; with a £5mn loyalty bonus. That offer is still on the table and the report adds that Wenger will sit down with his captain, when the squad reunites for pre-season training next week, to further discuss the matter. It seems a well-placed source from within the club told the Daily Mail the club were still "very hopeful" of securing van Persie's long-term future. The club have dismissed statements on the player's Web site as being bargaining tactics used by his agent, Kees Vos.
Now, if Wenger is unable to persuade his star man to stay, it is expected he will inform the board of his decision to cash in on him now, as former Gunner Ray Parlour advised. The club has rejected all bids for the player so far, including a reported £20mn offer from City and an £8mn bid from Juventus.
Meanwhile, despite Wenger's warning against selling van Persie to City, quotes attributed to strikers at the Etihad - Argentinean forward Sergio Agüero and Italian Mario Balotelli, coupled with reports linking Bosnian Edin Dzeko to Italian club AC Milan - suggest the Dutchman could well swap London for Manchester for next season. We need hardly add the English champions would have no trouble in trumping Arsenal's wage offer.