Arsenal are keeping tabs on Sevilla defender Federico Fazio as Arsene Wenger looks at his transfer options after another disappointing season with no silverware.
Fazio has become an integral part of the Spanish side's defence since moving from the B team to the senior line-up in 2007. His contributions this season have allowed the side to maintain a mid-table position and coming into the last year of his contract, Estadio Deportivo claims the Gunners would be able to land him for a cut price figure believed to be around €6 million.
Arsenal are said to have more money to spend than in previous seasons, with some reports claiming that Wenger will have as much as £70 million at his disposal when the season comes to an end.
It has been a particularly depressing campaign for Arsenal fans, who have just watched their former star striker lift a trophy with Manchester United while the north London club go an eighth season without such success themselves.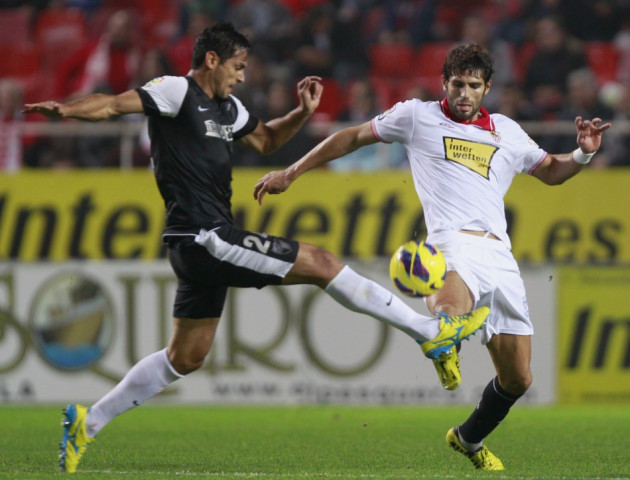 Alex Oxlade-Chamberlain claimed today that Arsenal have what it takes to push the best in England and Europe, but it would be difficult not to acknowledge that they don't need reinforcements in the summer.
Wenger has faced scrutiny over his defensive line-up in recent years, with inconsistencies being blamed for the side's struggles in the past.
Recently, captain Thomas Vermaelen has been left on the bench, though Wenger still insists he has a place in the team, and Bacary Sagna is coming into the final year of his contract. Reports have speculated that the France international wants a contract extension of two years, with the club only offering one year at present.
Argentine international Fazio could indeed provide more depth for Wenger at the back, and his height would certainly be an asset for Arsenal, with the defenderstanding a towering 6 foot 5 inches tall.
His versatility in midfield would also be useful for the Gunners if they did decide to make a purchase, with Fazio also having been deployed as a defensive midfielder on occasion for the Spanish side.