Arsenal have made inquiries for Manchester United striker Wayne Rooney and Barcelona midfielder Cesc Fabregas as they wait for a resolution on Luis Suarez's future at Liverpool, according to the Telegraph.
United have rejected a second bid from Chelsea for the 28-year-old and are believed to be more receptive to selling the England international to Arsenal rather than Chelsea who they foresee as genuine title contenders.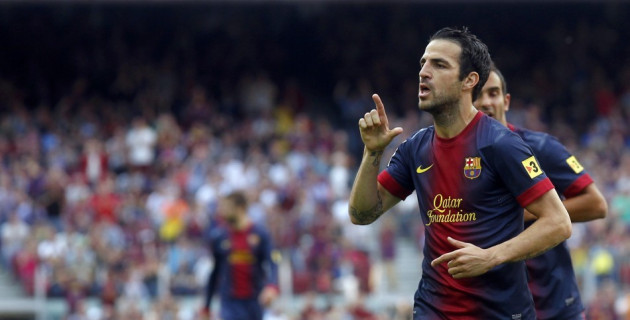 The west London club are expected to come back in with a £30m offer after their initial £25m bid was rejected with Rooney likely to hand in a transfer request if he is not allowed to leave.
The England international is reportedly miffed at Sir Alex Ferguson's tactics to play him out of position and believes that it will be not be any different under new boss David Moyes.
The former Everton manager has also failed in his attempt to regain Rooney's confidence, having stated in an interview last month that the player will be an understudy to Robin van Persie in the upcoming season.
"Overall my thought on Wayne is that if for any reason we get an injury to Robin van Persie we are going to need him. Wayne has a major role to play because we need to try and get him as many goals as we possibly can. Wayne can play up-top, I think he can play dropped in," Moyes had said.
"I want to be able to play the two of them, I want to be able to use Danny Welbeck, Chicharito [Javier Hernandez] as well. I want to try and give myself as many options as possible," he added.
Arsene Wenger is hoping to challenge for the title next season and has earmarked his attack as a major cause for concern. The Gunners have had a bid of £40m plus £1 rejected for Suarez but are confident of landing him before the end of the transfer window. Should they manage to land both Rooney and Suarez, it will be a major step forward in their attempt to end their eight season trophy-less run.
The Gunners are also keeping an eye on the situation regarding Cesc Fabregas and are willing to exercise their first-refusal option if the player is made available by Barcelona. Manchester United have had two bids rejected for the player and have been categorically told by Barcelona director Andoni Zubizarreta to give up on their chase.
"We count on Cesc [Fabregas], we're delighted to have him. [Manchester] United said they understand our position and won't try any longer," Zubizarreta said.