Arsenal may lose Serbian youngster Lazar Markovic to Serie A club Inter Milan. Reports suggest the Italians have stolen a march on the Gunners and are now favourites to sign the FK Partizan Belgrade forward. Markovic, 18, is reportedly also a target for Spanish clubs Barcelona and Sevilla.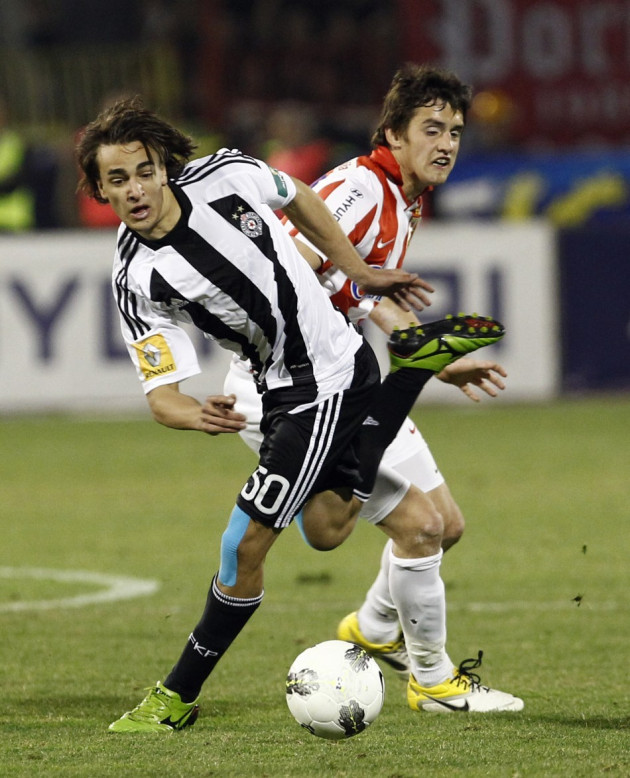 The teenager played against Inter in the UEFA Europa League group stage match at the Giuseppe Meazza on 25 October and impressed coach Andrea Stramaccioni, despite the visitors losing 1-0. Reports by talkSport claim Arsenal have a long-standing interest in the player but the Italian club will use the Europa League fixture in Serbia to open talks over a transfer.
However, both the Gunners and the Nerazzurri may be disappointed. The youngster has been quoted as saying his club of choice is reigning European champions Chelsea.
"I really hope I can go to Chelsea, it's my dream. I'm told there were 20 scouts from all over Europe in the VIP box when we beat Red Star. But Chelsea is the place I want to play. I had all the pictures of the team on my wall at home back to when they had Gianfranco Zola. And any time they are on TV I try to watch them. For me Chelsea are the best. I want to go to the Premier League. It is the best league in the world," the youngster told The Sun, in an interview late last year.
Koscielny Happy with Draw
Meanwhile, Arsenal's French centre-back, Laurent Koscielny, has declared the point from the 2-2 Champions League draw against Schalke a "good" one. He did admit the club ought to have held on to the two-goal lead earned inside the first 20 minutes but insisted the result left the club in a strong position to qualify for the next round.
"It's a good point. We are away so it's a good point against a difficult team. When we went 2-0 [up], I thought we could keep this result. We tried to come back but Schalke are a very good side. Now we have two games - one at home against Montpellier. I think it's very important to win that one," the 27-year-old said after the game.
Arsenal will now play French champions Montpellier at home on 21 November before travelling to Greece for a final group game against Olympiakos on 4 December. The Gunners are second in Group B, with seven points to Schalke's eight. The Greeks are third with six points.