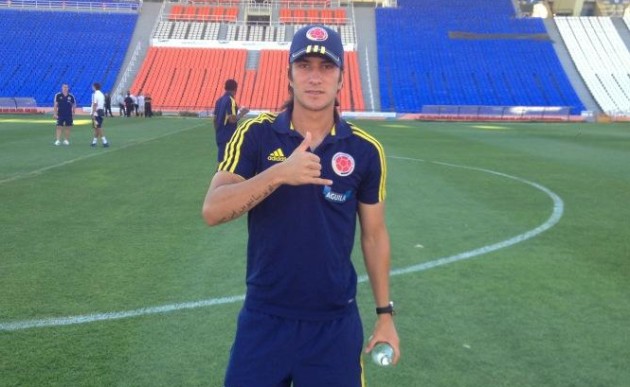 Colombian midfielder Sebastian Perez hopes to impress the Arsenal coaching staff after Atletico Nacional president Juan Carlos de la Cuesta confirmed the youngster will have a trial with the north London club in August.
The 20 year old currently plays for Nacional in Colombia but will soon be heading to London where he hopes to convince Arsene Wenger that he deserves a permanent contract with the Gunners.
Arsenal have already signed one exciting young player in Yaya Sanogo who joined the club after an impressive season with Auxerre.
Sanogo then finished at the top scorer at the FIFA Under-20 World Cup as his four goals helped France win the title, but it seems it was not just the striker that caught the eye.
Perez was also in action for Colombia as they reached the last 16 of the tournament and he will be hoping that he can similarly impress Wenger and prove that he can make the transition to playing in the Premier League.
The creative midfielder recently gave an interview to Colombian website Futbol Red where he gave Arsenal fans a hint of what they can expect from him if he earns a contract.
"I like scoring goals and when first pulling on a national team shirt for the U14s, I played as a No10, but soon the coaching staff recognised my strengths," revealed Perez who helped his club win the Apertura title in 2011. "I kept dropping back, so now I'm an organiser deeper in midfield."
Perez also revealed the players he attempts to emulate as he spoke of his excitement at finally being given an opportunity by Arsenal.
"In European football, I admire Ever Banega, [Fernando] Gago, Busquets, Xavi, Xabi Alonso and Andrea Pirlo," added Perez. "I am excited about playing in Europe. I want to go there and try to make it.
"I am driven by those I grew up with. They had the same dreams as me, but perhaps not the same talent. There's luck involved, but also a lot of discipline. You need that to make the most of the talent you have."