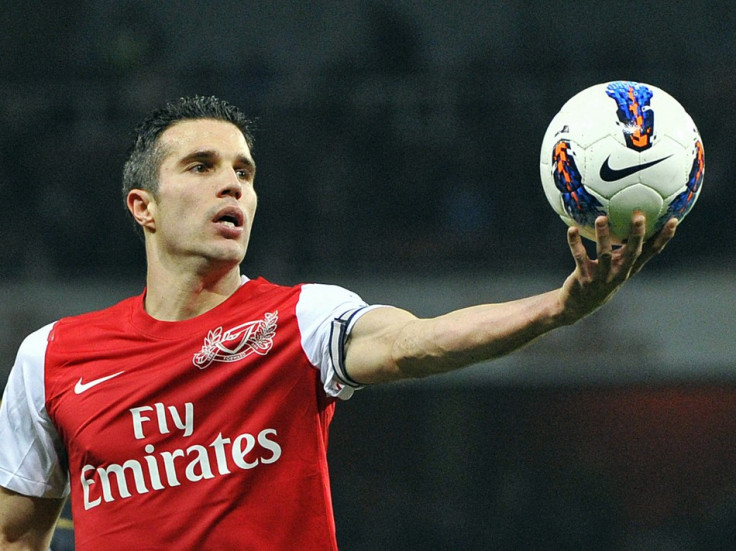 While it would appear that most defenders are aware of Robin van Persie's capabilities on the pitch, the striker believes that he still has the weapon of surprise and uses it regularly against his opponents.
Van Persie has so far scored 33 goals across all competitions for the Gunners this season, and looks set to add more to that tally as the side aim to shore up a Champions League spot for next season.
And the Dutchman, who is currently captaining the club and has been a big reason for their recovery from such a poor start to the season, believes that having the element of surprise is particularly important for any top striker, no matter how well known their reputation is.
"A second striker is a role where you are doing a lot of running, but one-pace running - closing people down to the left or to the right," he told the official Arsenal website.
"Sometimes you will have a high-speed run but it is mainly one-pace stuff.
"For a main striker you might give everything for 10 to 15 seconds or 30 seconds, whatever it takes. After that you might have a breather and then you go again, it is in intervals from really low straight to the maximum again. There isn't too much in the middle and it is a bit more of an aggressive game.
"To be fair I like that though because sometimes you can just surprise an opponent by doing that, having a breather and then, bang, you are off again. It is a different game in lots of ways, that is just one of the reasons.
"You are, of course, closer to the opponent's goal, which is handy because otherwise you have to cover all that distance. Even if you are not playing well as a main striker, just that one, short moment in behind means you can still score."
Van Persie didn't always set out to be first striker at Arsenal, with the 28 year old planning on being second up front to another forward.
And he revealed that Emmanuel Adebayor's move away from Arsenal to Manchester City in 2009 was the reason that Arsene Wenger decided to place him up front and see what happened.
"I was hoping to play as a second striker... I never thought I would end up as a main striker," he explained. "We only tried it when Adebayor went to Manchester City.
"The boss didn't buy anyone else because he was convinced I could do it, but I wasn't even convinced I could do it. I had not really played there that much, and I hadn't thought about it much before.
"The boss said, 'I think you can do it, give it a go and see where it ends. Play your normal game, don't go out there to score, go out there to enjoy yourself and help the team'.
"I had a go and then in pre-season we had a game against Inter Milan and I scored good goal and played well, and he told me after the game, 'We will see how it goes, I am 100 per cent sure it will work'.
"Then in my first five or six [league] games I didn't score, I was making assists and playing well, but I didn't score and I thought, 'I am a main striker now, I need to score' and the boss said, 'I don't mind that, as long as you play well for the team, giving assists, the goals will come'.
"When I scored my first goal I then scored seven in seven, with seven assists, so that was quite good. That was my first step to being a main striker."