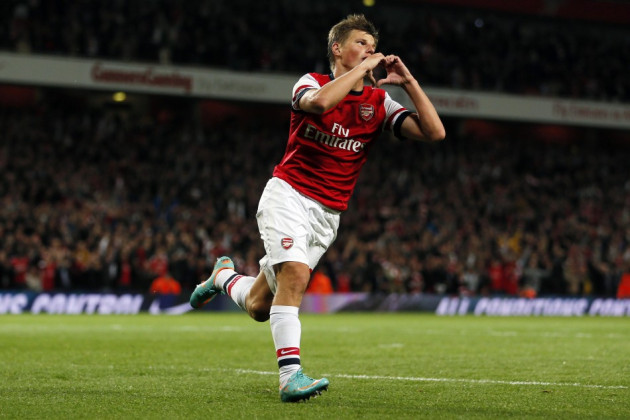 Arsenal have been handed a significant boost in the summer transfer window after confirmation that Andrey Arshavin, Denilson and Sebastien Squillaci will leave the club after the expiry of their contracts.
The trio's wages are understood to range between £45,000 and £85,000 and their departure frees up as much as £10m on the club's wage bill ahead of what is expected to be a busy summer in north London.
With Johan Djourou, Nicklas Bendtner and Marouane Chamakh all out of favour with manager Arsene Wenger and with a year to run on their deals, Arsenal may yet create additional leverage on their balance sheet.
After joining in the January transfer window of 2009 from Zenit St Petersburg, Arshavin has floundered with the Gunners despite a glittering initial spell in the Premier League, scoring four goals in a 4-4 draw against Liverpool at Anfield.
However his form continued to dwindle and despite moving to Zenit in 2012, Arshavin was stripped of the Russia captaincy by manager Fabio Capello and scored two goals in just six starts last season for Arsenal in the last of his four and a half years at the club.
Denilson joined Arsenal from Sao Paulo in 2006 and made over 153 appearances across six seasons at the club, last term returning to his home town club for a season-long loan.
Meanwhile, Squillaci fulfilled a bit-part role for Arsenal across his three year spell and was often a target of supporter unrest following a series of uncertain appearances.
After scrapping into next season's Champions League following a last day win over Newcastle United, Arsenal are expected to enter the transfer window with renewed vigour this summer and the release of some of the club's dead wood is likely to allow them to invest more freely in the market.
The club have often resisted in offer big-money contracts to new and existing players, a policy which has proven hazardous; as discovered during the contracts negotiations regarding Theo Walcott at the turn of the year.
However, the reality remains that Wenger has seldom invested heavily in the transfer window regardless of his side's shortcomings and Arsenal's decision to free up space on their wage bill could work as a false dawn ahead of the remainder of the summer.