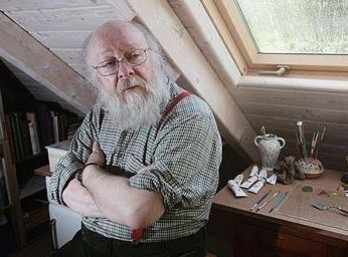 An world famous artist who avoided prison after being found guilty of a string of child sex offences has been jailed for two years and three months following an appeal.
Graham Ovenden, 70, was handed a 12-month jail sentence, suspended for two years after he was found guilty of six counts of indecency with a child and one count of indecent assault in April.
The internationally renowned artist was found guilty of committing the offences on four young girls between 1972 and 1985. He denied all the charges against him.
Three Court of Appeal judges have now ordered him to serve time in jail after they ruled his original sentence "unduly lenient". The sentence was referred to the court by attorney general Dominic Grieve.
After the hearing, Grieve said: "Graham Ovenden committed terrible sexual offences against vulnerable young girls who were in his charge and ought to have felt safe. He manipulated them and abused his position of trust.
"It is right that sexual crimes, whether committed many years ago or more recently, should be punished appropriately.
"Today the court affirmed this and sent a clear message that people who have behaved in this way in the past will face the consequences through the courts."
Upon sentencing at Plymouth Crown Court, Judge Graham Cottle told Ovenden at the time there was "no doubt" he had a sexual interest in children.
The judge said he had taken into account Ovenden's age, the severity of his crimes and the time the offences took place when sentencing.
He also said he considered how Ovenden, A former pupil under Sir Peter Blake, had suffered a "steep fall from grace" his reputation was now "irretrievably tarnished".
During the trial, Ovenden argued his pictures of children in various states of undress were not indecent and he had a "moral obligation" to capture them.
Following his arrest, he told police he had a "major reputation" for having created "some of the best portraits of children in the last 200 years".
The jury rejected these claims and said he photographed girls at studio in Cornwall and former home in Hounslow, west London, as a ruse in order to abuse them.
After he was found guilty, The Tate gallery removed 34 works of art from its online collection.
The pieces were given to the Tate in 1975 as part of a larger collection of 3,000 pictures. The pieces date from 1970-75 and contain several prints of naked young girls.