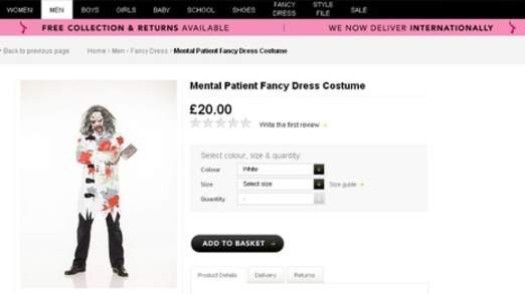 A top supermarket has been branded "extremely misguided" for selling a "staggeringly offensive" Halloween outfit of a "mental patient".
Asda was hit by a storm of protest after the advert on its website for a "mental patient fancy dress costume" was spread online by disgusted web users.
It shows a frightening looking man with a bloody face and wild hair wearing a stained straitjacket and wielding a meat cleaver. It was part of the supermarket's George collection.
Asda issued an apology and said the costume had been withdrawn from sale.
But it was too late to stem the flow of condemnation on Twitter including criticism by public figures who have battled mental health issues.
Radio football pundit Stan Collymore told his followers: "Do you actually realise how many people are hanging themselves because of being frightened of the stigma?"
Tony Blair's former press guru Alastair Campbell, who has suffered from depression, wrote on Twitter: "What possesses these people?"
Mental health charity Mind said the gaffe showed Asda executives were out of touch. A spokesman said: "Asda have shown themselves to be extremely misguided with their mental health patient fancy dress costume.
"It is staggeringly offensive to the one in four of us affected by mental health problems and our families and friends, and troubling that some businesses are still so out of touch with the public mood."
Asda went on Twitter to try to dampen down the row by apologising for the "unacceptable error".
"We're deeply sorry one of our fancy dress costumes has upset people. This was an unacceptable error - the product was withdrawn immediately. We'd like to offer our sincere apologies for the offence caused and will be making a sizeable donation to Mind."
The charity said: "It is encouraging to see the groundswell of outcry on Twitter and that our voices are being heard.
"We hope this will urge Asda as well as other retailers and manufacturers to review their processes and consider taste and decency on mental health grounds to avoid fuelling stigma and discrimination that are so damaging for large numbers of the population."