Asean summit: Duterte croons 'You are the love I have been waiting for' for Trump
Philippines President Rodrigo Duterte and US President Donald Trump met officially on the sidelines of the 31st Association of Southeast Asian Nations Summit.
Playing the perfect host at the 31st Asean (Association of Southeast Asian Nations) summit gala dinner on Sunday (12 November), the Philippines President Rodrigo Duterte entertained the gathering by singing a duet with a local pop artist. He also joked that he performed on the orders of his American counterpart, Donald Trump.
"You are the love I have been waiting for. My heart was despaired for so long but now it is finally here. You, You are the love that was truly given," the firebrand Filipino leader crooned standing besides Trump, who was to fly back to the US the next day.
"Ladies and gentlemen, I sang uninvited a duet with Miss Pilita Corrales upon the orders of the commander in chief of the United States," Duterte said after concluding his song.
The video of him crooning was shared by the Philippines Public Works Undersecretary and lawyer Karen Jimeno.
The gala dinner was hosted at Pasay City in the Philippines a day before the official start of the Asean summit and was attended by nearly 20 world leaders.
Trump did not attend the summit on Monday, but took part in an economic conference in the country and had an official meeting with Duterte before leaving for Washington.
Following their meeting, when Trump was asked if they discussed the Philippines' human rights issue behind closed doors, Duterte shut the reporters and described them as spies, drawing a laugh from his counterpart, according to USA Today.
Trump described his Philippines visit as "very successful" and said the two leaders "had a great relationship".
The foul-mouthed Filipino who once called former US president Barack Obama a "son of a b****" for questioning the alleged extrajudicial killings in the Philippines as part of Duterte's drug war, told Trump that he was looking forward to more meetings with him and expected to discuss mutual concerns.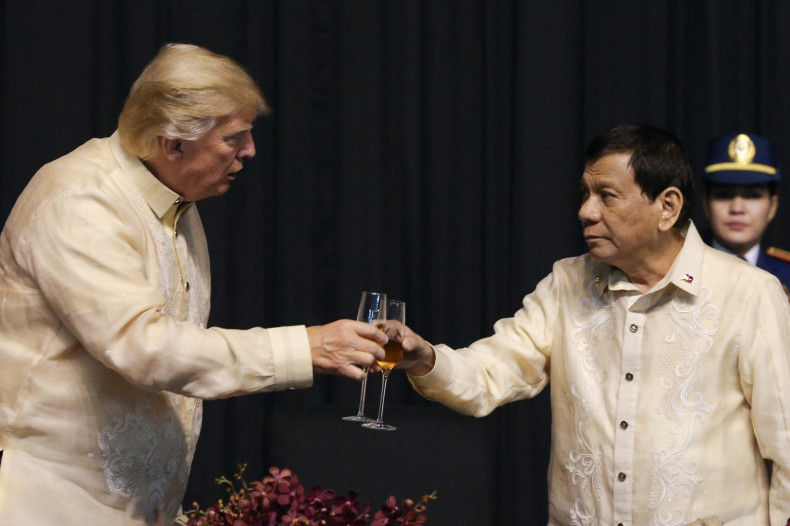 Previously, Duterte had said following Trump's election as US president in November 2016 that they both could get along well because they were similar and the latter never meddled in Filipino issues.
Before leaving for Washington, Trump told reporters in the Philippines that he would make a "major announcement" on Wednesday (15 November) at the White House on the two issues that dominated his Asia visit — trade and North Korea.