Ash Carter visits DMZ as US, South Korea condemn Pyongyang's 'provocation'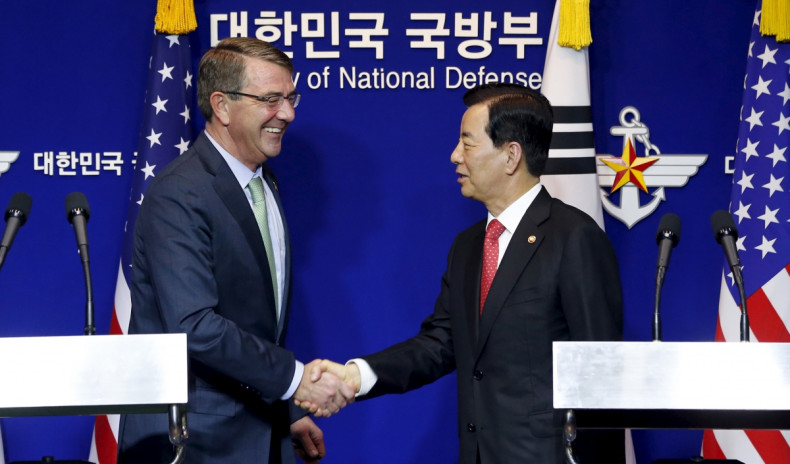 US Secretary of Defence Ash Carter appeared in the demilitarised zone (DMZ) between the Koreas in a show of support for the American ally, Seoul. Following discussions between Carter and his South Korean counterpart, Han Min-koo, the allies condemned North Korea's intentions to press ahead with its nuclear test and missile launch.
In the first leg of his two-stop swing through Asia, Carter held an annual review of Washington's bilateral ties with South Korea. Among other things, the defence chiefs discussed the operational command of their joint forces positioned in the region.
A joint statement released by the authorities read: "The minister and the secretary reaffirmed that any North Korean aggression or military provocation is not to be tolerated."
Referring to Pyongyang's undeterred adamance on the planned launch of a ballistic missile launch and a proposed nuclear test, both prohibited under UN regulations, Carter said: "Both are stark reminders that North Korea is an upclose, dangerous and continuing threat to the security of the peninsula and the region."
This was Carter's first visit to the heavily-fortified DMZ as secretary of defence. Carter, flanked by Han, was briefed by South Korean personnel on the border situation and the demarcation line. The US has stationed more than 28,000 troops in the Korean peninsula to deal with the tensions caused by North Korea's provocations.
Speaking from the DMZ, Carter said: "You can see right behind me is North Korea, the demilitarised zone, and being here shows you up close how dangerous this part of the world is. That's why our alliance with South Korea is iron-clad and strong, and you see that from the strength of our soldiers here and our South Korean counterparts."
"We continue to call on North Korea ... to denuclearise the peninsula and ultimately create a situation peaceful and prosperous for everyone on the peninsula."
Carter's brief Asia tour will also take him to Kuala Lumpur where he will hold a series of bilateral meetings followed by a conference of the defence ministers of Southeast Asian countries.