He's just released his latest picture Steve Jobs, starring Michael Fassbender and Kate Winslet, but it turns out Academy Award-winning director Danny Boyle originally had his eyes on a different real-life personality to use as a basis for a biopic, before he even started working on the current festival favourite. And that personality, was David Bowie.
In an interview with the Radio Times, the Slumdog Millionaire director admitted that it was only the falling-through of the Bowie project that led him to take on Steve Jobs, and that he was forced to abandon the film that he was intent on turning into a musical of sorts, because the legendary Let's Dance singer refused him the rights to use his music.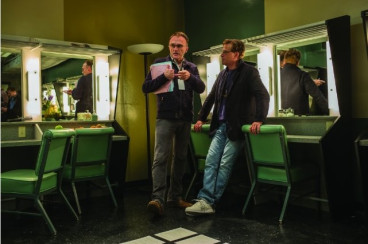 The 59-year-old filmmaker had already been working with The Railway Man screenwriter Frank Cottrell Boyce to come up with a script for years when the news came in, leaving Boyle devastated and by own admission, "in grief". His final point on the matter was that he would be "very keen" to direct a musical at some point.
He revealed that he used the Steve Jobs opportunity to "fill the space in [his] heart left by the abandoned Bowie script." Heavy stuff, Boyle, but we suspect the expected Oscar-buzz surrounding his Apple co-founder biopic is bound to soften the blow eventually.
Meanwhile, Boyle's next project will see him revisiting his 1996 cult-hit classic, Trainspotting, as he begins to develop a sequel along with original cast Ewan McGregor, Ewen Bremner, Jonny Lee Miller and Robert Carlyle. "It's not called Porno," Boyle stated, referring to the title of Irvine Welsh's follow-up novel, which was the basis for the first movie. "It's T2 for now. We've got a window for the cast to shoot in spring 2016 and hopefully it will come out the same year, on the anniversary."
For all the latest entertainment news follow us on Twitter @alistinsider.