Star Wars The Force Awakens rumour: Has Amazon revealed Finn's father in a merchandise listing?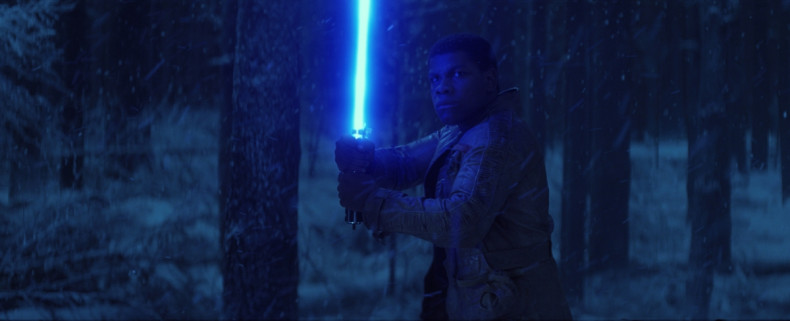 As with any sequel, particularly ones set some time after their predecessors, fans are bound to speculate whether any new characters know, or are even related to, characters that have viewers been seen before.
Well after plenty of rumours regarding Star Wars: Episode VII - The Force Awakens protagonist's heritage, it looks like Amazon.com, of all places, might have just revealed a major connection between Finn (John Boyega) and another character from Star Wars history. All through a 1,000 piece puzzle tin listing.
Currently, Star Wars 7 leads Finn and Rey (Daisy Ridley), have only been referred to by their first names; a fact that has made many Star Wars fans speculate as to just what their surnames could be and if they hold any reference or even significance to the older movies.
Director JJ Abrams, known for his frequently coy and somewhat misleading answers to probing questions, recently added fuel to the fire regarding the questionable parentage of the two heroes when he told Entertainment Weekly: "I will only say about that that it is completely intentional that their last names aren't public record."
Could this be why Finn's name in particular has been kept under wraps? SuperBroMovies was first to spot the official merchandise listing, which plainly states Finn is existing character Lando Calrissian's son. Portrayed by Billie Dee Williams in the original trilogy, gambler and smuggler Lando owned the Millennium Falcon before Han Solo and eventually joined the Rebel Alliance.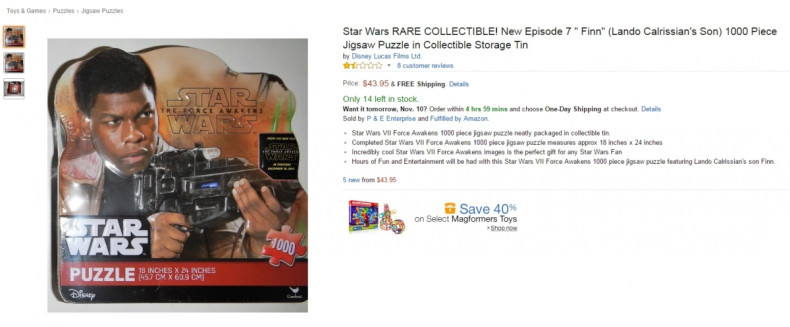 However, despite the solid looking evidence, nothing has been confirmed and it could just be a mistake made by the manufacturer. Making Star Wars' Jason Ward also claimed he has seen the puzzle in real life, and it gives no indication that Finn is Lando's son.
Many reviewers of the product have commented on the shopping website that the claim that Finn is Lando's son alongside the puzzle tin is merely an excuse for the retailer to place a higher price on the product. A buyer named James Falcon wrote: "Stating that this is Landos son is just a way to jack up the price of this puzzle. It should be illegal," while another called Matthew C Curtis said: "Giving a low score, not for the product itself, but for the bogus 'spoiler' title from the seller meant to jack up the price."
Meanwhile, there has been similar speculation circling that fellow new character within the franchise, Rey, is the daughter of Solo and Princess Leia. A line in particular that is grabbing the attention of fans appeared in the latest TV spot for the film, and was spoken by Lupita Nyong'o's character Maz Kanata. While the camera goes between Rey and Harrison Ford's Solo, Nyong'o's voice-over says: "I have lived long enough to see the same eyes in different people. I see your eyes. I know your eyes."
Later on in the extended trailer, it is uttered: "Every generation ... needs a story," which could further support Star Wars-lover theories about the two main characters being descendants of past, well-loved characters.
Star Wars: Episode VII – The Force Awakens is set to be released in UK cinemas on 17 December and US cinemas the following day.
For all the latest entertainment news follow us on Twitter @alistinsider.