Fragile, Disappointing and Embarrassing: Australian Press Reaction as England Dominate Ashes First Day
A view from Australia as England dominate the first day of the Ashes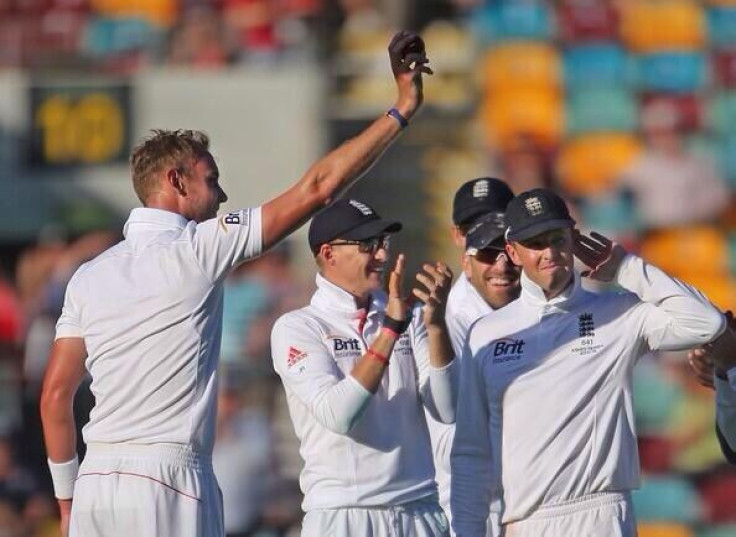 Fragile, disappointing and embarrassing. These are the words being used Down Under to describe the batting performance of Australia on the opening day of the first Ashes Test at the Gabba in Brisbane.
Australian captain Michael Clarke would have known how important it was to lay down a marker on the first day after his side were dismantled by England earlier this summer.
It all started positively enough as Clarke won the toss and decided to bat on a track that looked like it would provide little help to the seamers. Chris Rodgers may have fallen early to Australia's public enemy number one, Stuart Broad, but after reaching 50 without any further loss the Aussie supporters were feeling confident.
"Australia make a solid start 1/53 off 18 overs. Looks a great batting wicket here at the Gabba," tweeted former Australia fast bowler and chief England tormentor Glenn McGrath.
That early confidence was soon shattered as Australia suffered a horrific collapse that saw them move from 71/1 to 132/6 thanks to some superb bowling by England's three aggressive quicks.
Broad, Chris Tremlett and James Anderson would do all the damage on the first day as they claimed eight Australia wickets to leave the hosts struggling on 273/8. It could have been far worse had there not been a brilliant partnership between Brad Haddin and Mitchell Johnson who put on 114 before the left-arm seamer fell for 64.
Clarke's side may feel they have some hope if the tail continues to wag and support the brilliant Haddin but it was clear from the reaction in the Australian press, and from former players, that England are very much in control.
The Herald Sun felt it was an all too similar scenario as Australia's batsmen once again failed. 'In what has become a recurring theme of recent Ashes clashes Australia's fragile top order was ruthlessly exposed to fall to 6-132 before a mini-revival by the tail saved total embarrassment after skipper Michael Clarke won the toss and elected to bat on Thursday.'
For the Age it was all too clear who had dominated day one. 'While some rearguard action from Haddin and Johnson saved Australia from embarrassment, the day belonged to Broad - public enemy No.1. The 27-year-old ripped through the heart of the Australian batting line up to catapult England into a commanding position after the opening day of the first Ashes Test match.'
Former Aussie spinner Shane Warne, who was on commentary duties, had been critical of the way that Alastair Cook had performed his captain's duties, but even he was forced to acknowledge how well the Essex opener had performed at the Gabba.
"Good test now for the Australian team. They are under huge pressure & struggling. England all over them like a cheap suit. Time to fight," Warne tweeted as Australia began to collapse, before writing this as the day came to a close. "Good fight back from Australia late in the day, but England easily won the 1st comfortably. Alistair Cook had a good day as skipper too."
England will hope to continue their dominance on day two and it seems former Australian opener Matthew Hayden may well feel he's in for some more dark days.
The once desturtive opener summed up the mood with his account of the first day's play, saying: "Hats off to the POMS. Better with sledges off the field and better on it with Aussies struggling against this quality bowling attack."
© Copyright IBTimes 2023. All rights reserved.