Ashley Madison hack list: How to check if your home address is part of the data leak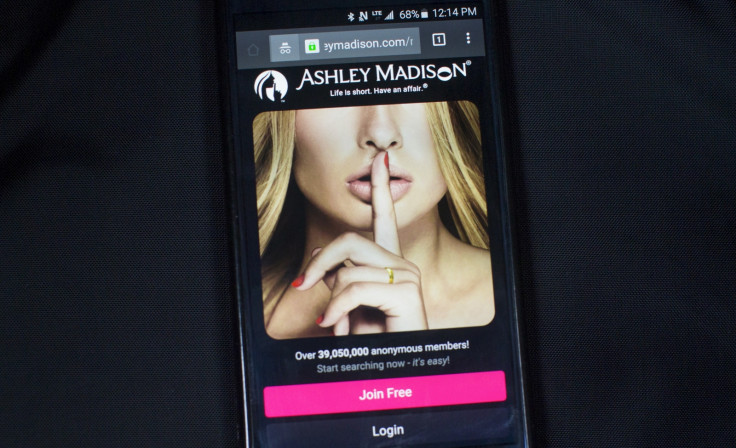 As data crunchers and web designers have more time to pour over information hacked and leaked from online infidelity site Ashley Madison, more sophisticated databases allowing customers to check whether their details have been published have emerged.
The latest is one that enables users to find home addresses associated with email addresses of Ashley Madison members.
The website also gives spouses who might be concerned that their husband or wife has been cheating a far more conclusive way to check. Previous databases only allowed individuals to see whether email addresses matched those leaked by the impact team. Verification of these details was problematic because users often gave fake emails.
However, now email details can be matched against home and business addresses, as well as giving information about users' online Ashley Madison greetings, sex and ethnic group.
The use of all these databases comes with a health warning. Some websites have been harvesting users email addresses and spamming them with advertising and the websites themselves, or pop-ups and adverts could contain malicious spyware. Users should remain circumspect while accessing untested sites.
The latest website – www.allaboutashley.cr – contains a smattering of adverts for private investigators, spy gadgets and even STD tests. However, it has been verified by one user who had his data leaked by the Impact Team. He confirmed, while asking for his anonymity to be protected, that his address and other details matched with the email he had provided Ashley Madison.
Speaking to IBTimes UK the creator of the site using the pseudonym Jill Does said they were motivated to create the searchable database because they shared Impact Team's ideals.
"As Impact Team, with whom we feel a solidarity of purpose, has not indicated any restrictions on the dissemination of the data we have decided to give the data a public face," they said via email.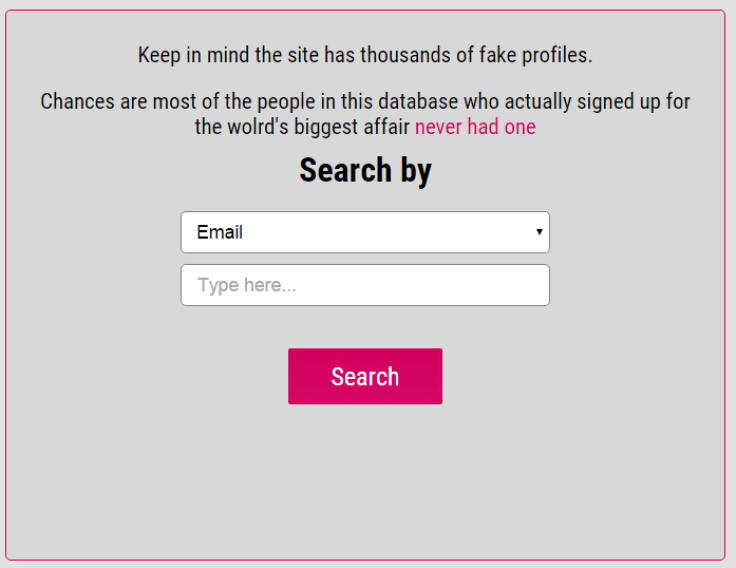 The creator claimed the adverts on the site existed only to support it and that they were not using addresses given to them to get in touch or send spam.
"Unlike the disreputable people at the main source of Ashley Madison information today we do not under any circumstances harvest data or email addresses put into our search fields nor do we undertake any outbound communication with the database published by Impact Team," they claimed.
The domain name of the site is a Cost Rican one. The Latin American nation's domains have been used in the past by sites that do not want their origins traced. A domain name search shows that the site is owned by Dirk Diggler (The name of a fictional pornstar in Paul Thomas Anderson film Boogie Nights) and registered to an address in Los Angeles.
One database, trustify.com, has spammed users with fearmongering emails and adverts for a private investigator.
The site has since stopped sending unsolicited messages but not before the emails caused a stink on social media. Messages were sent not just to users who checked their own emails but also to those who had their addresses checked by partners or a third party.
"You or someone you know recently used our search tool to see if your email address was compromised in the Ashley Madison leak, and we can confirm your details were exposed," the emails said before following up with the message: "Talk with one of our experienced investigative consultants to learn how you can find out what incriminating information is available and could ruin your life."
If you do not want to deal with potential problems involved in using relatively new databases, the eminently reliable haveibeenpwned.com, created by Microsoft security developer Troy Hunt, is a tried and tested way to check if your data or the data of someone you know was leaked in the data dump on to the dark web.
Users simply type in email addresses to find out whether they have been included in the Ashley Madison data leak or a number of other recent cyber security breaches. You can subscribe to haveibeenpwned to find out in future if details have been leaked in another hacking scandal.
© Copyright IBTimes 2023. All rights reserved.