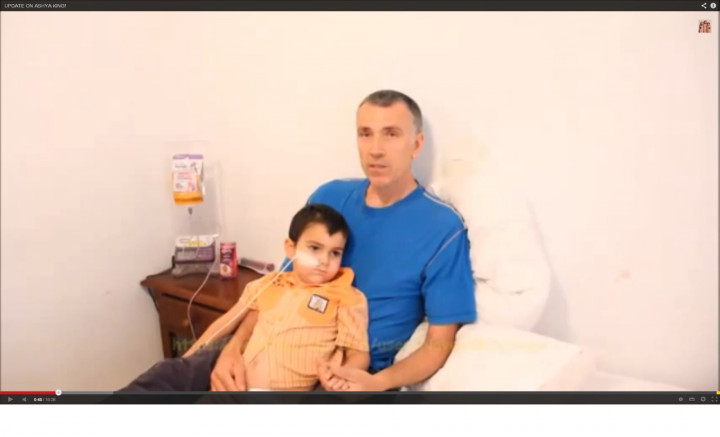 More than 100,000 people have signed a petition calling the parents of critically ill Ashya King to be reunited with their son in hospital.
Brett and Nagmeh King remain in police custody in Madrid while they wait to hear if a Spanish court will extradite them to Britain.
Their five-year-old son, who has been diagnosed with a brain tumour, is currently under police guard at a hospital in Malaga, more than 300 miles away.
The parents were arrested for alleged cruelty to a person under the age of 16 years after they removed Ashya from Southampton General Hospital before feeling the country. The family took the five-year-old without doctor's knowledge as they were seeking medical treatment for their son which is not available via the NHS.
More than 100,000 people are now calling for David Cameron to help reunite the parents with their child while he receives medical treatment.
Ethna Dallas, who set up the online petition on change.org, said: "I have known the King family for over a year. I've seen how much they love their son Ashya and only want to the best for him.
"His parents are being wrongly accused of neglect when they were only attempting to get better treatment for their son. Until they are released, his parents will be unable to get the treatment they desire and Ashya will be facing his illness alone.
"They are not refusing any treatment, just the poor options available to them in the Southampton Hospital."
Deputy prime minster Nick Clegg also said the idea of separating an ill child from his parents fills him "with horror".
He told Sky News: "I've got a five-year-old son and the idea of leaving him in a hospital with no contact with parents and siblings fills me, as I imagine it fills all parents, with horror," he said.
"I would like to see the family reunited and then hopefully people can calmly make a decision about what should happen next."
London Mayor Boris Johnson also belives the "potty" case should end and the family be reunited.
He told LBC radio: "Parents and a suffering child should be united. If they have got a plan to treat their child they should be supported in that.
"It seems potty to me frankly but I don't know the details of the case. Every parent's instinct should be that the parents should have care of the child.
"Somebody is going to have to do some very, very lengthy explaining about what went down."
The Crown Prosecution Service (CPS) are also urged to drop the case against the parents and remove all extradition proceedings.
Lawyer Karen Todner believes the European Arrest Warrant (EAW) for Ashya King's parents should be withdrawn as the CPS applied the "incorrect test".
She added: "The law on obtaining EAWs is very clear - there must be sufficient evidence to prosecute for an offence - in this case cruelty.
"I think the CPS applied the wrong test because Mr and Mrs King have been open about their whereabouts, their chronically sick son and other children.
"It is difficult to see how the authorities, knowing where they are can justify they are a bail risk."