Asia nations abandon Rohingya refugees, leading to 'maritime ping-pong'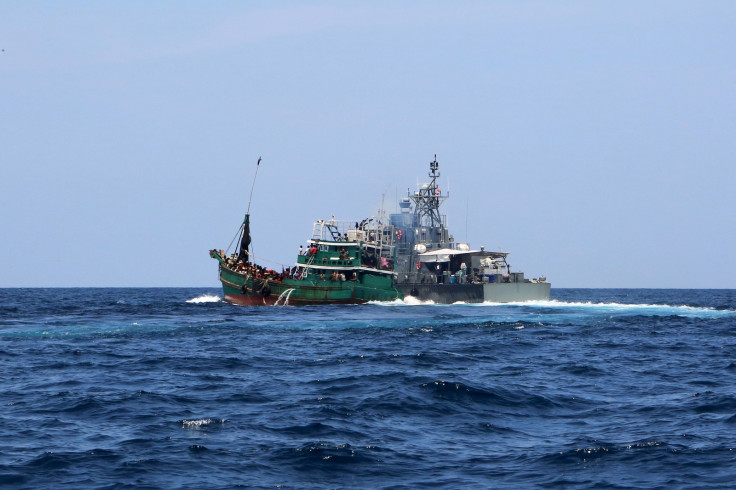 A boat carrying Rohingya and Bangladeshi migrants was intercepted by Malaysian vessels earlier today (16 May) after the Thai navy towed it out of its waters a day earlier.
The refusal to accept the migrants underlines what the International Organisation for Migration labels "maritime ping-pong", and the body has also vehemently denounced Asian governments for sending the asylum seekers back out to sea in a move which endangers lives all over again.
Thousands of Myanmar's persecuted Rohingya Muslims and Bangladeshis are now stranded at sea after Asian nations around the Andaman Sea have refused to rescue them, preferring to shun them.
"We're not seeing any such moves from any governments in the region even though we're calling on the international community to take action because people are dying," said Jeffrey Savage, who works with the UNHCR refugee agency in Indonesia.
Earlier this week, Indonesia repelled a boat containing thousands of passengers while Malaysia refused to accept two boatloads of around 800 people on Wednesday.
"What we have now is a game of maritime Ping-Pong," said Joe Lowry, a spokesman for the International Organisation for Migration in Bangkok. "It's maritime Ping-Pong with human life. What's the endgame? I don't want to be too overdramatic, but if these people aren't treated and brought to shore soon, we are going to have a boat full of corpses."
Like in Europe, migrant boats in Asia are packed full of desperate people who are fleeing dire political conditions or religious persecution.
As a majority Muslim nation with a shortage of unskilled workers, Malaysia is the country of choice for many Rohingyas. But even if they make it, the overwhelming likelihood is that they will not be permitted to step ashore.
Despite living in Myanmar for hundreds of years, Rohingyas are an oppressed people who are subjected to forced labour, have no land ownership or travel rights, and are essentially stateless as they are not permitted to hold Burmese citizenship.
Talks are scheduled for 29 May in Thailand to discuss the issue of migration in the region, but the chances of productive solutions being yielded are slim. An invitation to attend the talks has not been extended to Myanmar, where politicians are busy arguing over terminology to address the issues.
"We haven't received any formal invitation from Thailand officially yet," Zaw Htay, a senior presidential official for Myanmar said in an emailed response to questions. "And another thing, if they use the term 'Rohingya' we won't take part in it since we don't recognise this term. The Myanmar government has been protesting against the use of it all along."
Of the approximately 750,000 Rohingya living in Burma, 140,000 are being held in internment camps, where they have been imprisoned since 2012 sectarian riots.
© Copyright IBTimes 2023. All rights reserved.