A self-confessed hitman has filed criminal complaints against Filipino President Rodrigo Duterte. The allegations include murder, kidnapping, torture, genocide, other crimes against humanity and breaching international humanitarian laws.
Edgar Matobato, a self-proclaimed Davao Death Squad (DDS) assassin, filed the case before the Office of the Ombudsman on Friday (9 December) via his lawyer, Jude Sabio. Other names in the complaint include the president's son and Davao City Vice Mayor Paolo Duterte, Philippine National Police (PNP) Chief Ronald Dela Rosa and 25 other alleged members of the "death squad".
Matobato accuses Duterte of establishing the vigilante group initially known as the "Lambada Boys", which were precursors to the DDS. "Mayor Duterte was the highest leader of DDS," Matobato said in his affidavit. "His code name among Lambada Boys was Charlie Mike or Harry/Hari."
Describing the DDS, Matobato said: "It was a group of killers organised and led by Mayor Duterte. We were initiated into the group in a hotel at San Pedro St, Davao City in 1988. Our job was to kill people – hold-uppers, rapists, snatchers, drug pushers, and other suspected criminals."
He claimed that 1,000 people were killed between 1988 and 2013 when he left the DDS. Matobato also alleged that Duterte not only gave the orders, but even participated in some of the executions.
"He [Duterte] gives us the orders," said Matobato. "If a victim is a known personality, Duterte goes to the Laud Quarry, the place where we chop up the bodies to watch and confirm the identity of the victim.
"Sometimes he also takes part in the killing," he added.
Matobato recalled an encounter with an National Bureau of Investigation (NBI) agent named only as Jamisola. The group was chasing a target when they were blocked by Jamisola's vehicle.
A firefight erupted between the DDS and the NBI agent and Duterte arrived on the scene after he was contacted by one of his men, Matobato claimed. "He [Duterte] emptied two magazines of his Uzi machine pistol on the NBI agent," said Matobato. "We poured almost 200 bullets on his body," he added.
Outlining his motives, Matobato said: "I want justice to be served because we killed many people. I have a conscience. Even up to now, many are still being killed."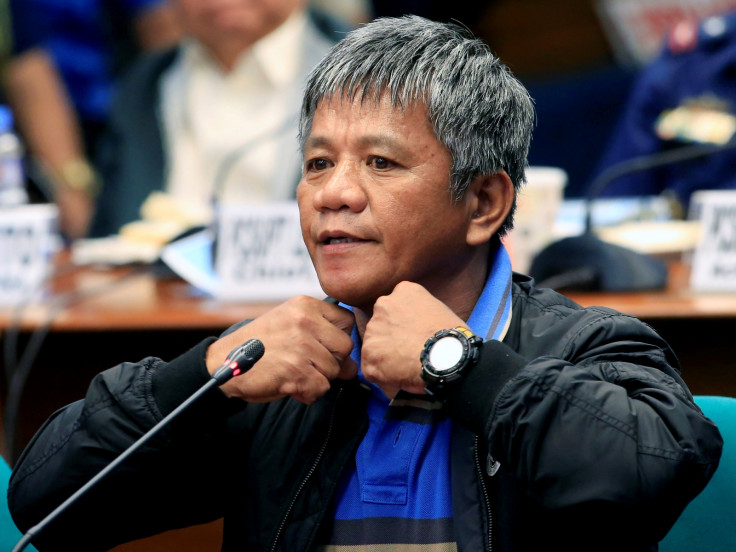 On Thursday (8 December), a Senate report said there was not "sufficient evidence to prove the existence of a Davao Death Squad, or that the then mayor was responsible for those deaths purportedly committed by a Davao Death Squad."
According to a CNN Philippines report, Matobato is seeking to challenge the doctrine of presidential immunity, which says a serving president should not face civil or criminal charges.
In a statement released on Friday, Presidential Communications Assistant Secretary Ana Marie Banaag said the complaint was "nothing but harassment aimed at distracting the chief executive from performing his duty."
"It is noteworthy to mention that the ombudsman cannot discipline or remove impeachable officials, who include the president. He enjoys immunity while in office," she added.