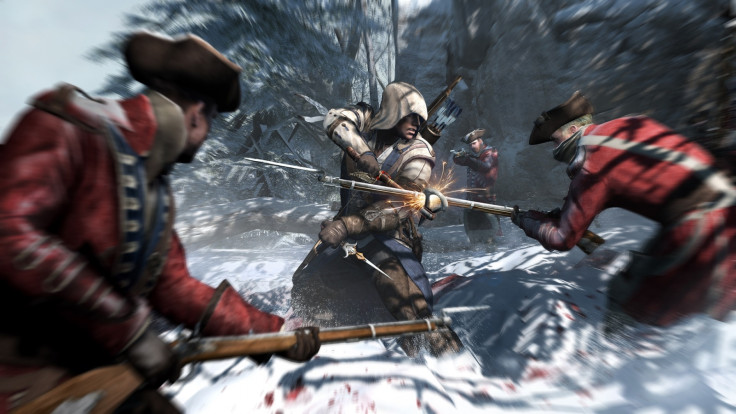 Ubisoft has announced that its final free giveaway for PC players as part of its 30th anniversary celebration will be its American Revolution-era title, Assassin's Creed 3. The developer announced on Twitter that the 2012 game will be free for Ubisoft Club members to download via its Uplay service starting from 7 December until the end of the month.
To celebrate its 30th anniversary, the gaming company announced this summer that Ubisoft Club members will get a free digital PC game every month until the end of the year starting with Prince of Persia: The Sands of Time in June.
Since then, the company has released Splinter Cell, Rayman Origins, The Crew, Beyond Good & Evil and Far Cry 3: Blood Dragon.
Set in 1775 during the American Revolution, Assassin's Creed 3 was the final title starring protagonist Desmond Miles in the Assassin's Creed games.
In November, Ubisoft released Assassin's Creed: The Ezio Collection, a remastered collection for PS4 and Xbox One that includes the three games in the series starring protagonist Ezio Auditore da Firenze - Assassin's Creed 2, Assassin's Creed Brotherhood and Assassin's Creed Revelations.
Last week, the company announced 30 days of giveaways from 24 November through to 23 December to celebrate the holiday season and thanked fans for "30 wonderful years of play".
"We wanted to try and find a little something for everyone, young and young at heart alike," Ubisoft's Phil Smith wrote in a blog post. "Planned giveaways will include Rayman Classic for mobile, special holiday decorations and a special 300-Game Giveaway. That's right, 300 copies of three of our latest titles (one game per person, first-come first-served) will be up for grabs as part of the festivities.
"We'll also be giving away unique goodies, ranging from cocktail recipes to DIY projects for the whole family."
To get the daily free goodies, players need log into 30days.ubi.com using their Ubisoft account.