Following multiple leaks and rumours, Ubisoft has finally confirmed that Assassin's Creed: The Ezio Collection will launch on 17 November in Europe for PS4 and Xbox One, and 15 November in North America .
The remastered bundle will include the three Assassin's Creed games to star beloved protagonist Ezio Auditore da Firenze: 2009's Assassin's Creed 2, 2010's Assassin's Creed Brotherhood and 2011's Assassin's Creed Revelations.
Complete with all the single-player campaigns and DLC, The Ezio Collection will include a three-part feature called Assassin's Creed: Lineage that fleshes out Ezio's backstory as well as an animated movie called Assassin's Creed: Embers.
"Live the life of Ezio, learn the ways of the Assassins, and get vengeance for the betrayal of your family through 15th-century Renaissance Italy, into Italy's greatest city, Rome, and finally in 16th-century Constantinople," Ubisoft's description reads.
Fans will be disappointed to learn that the Ezio Collection will not have the hide-and-seek multiplayer modes included in Brotherhood and Revelations.
According to Ubisoft, all three games will feature "enhanced graphics". However, the company did not specify any details on resolution, frame rate or any other changes included in the remasters. Last month, French gaming site Gameblog reported that the remastered collection will feature new textures, 1080p visuals and a 30fps frame rate.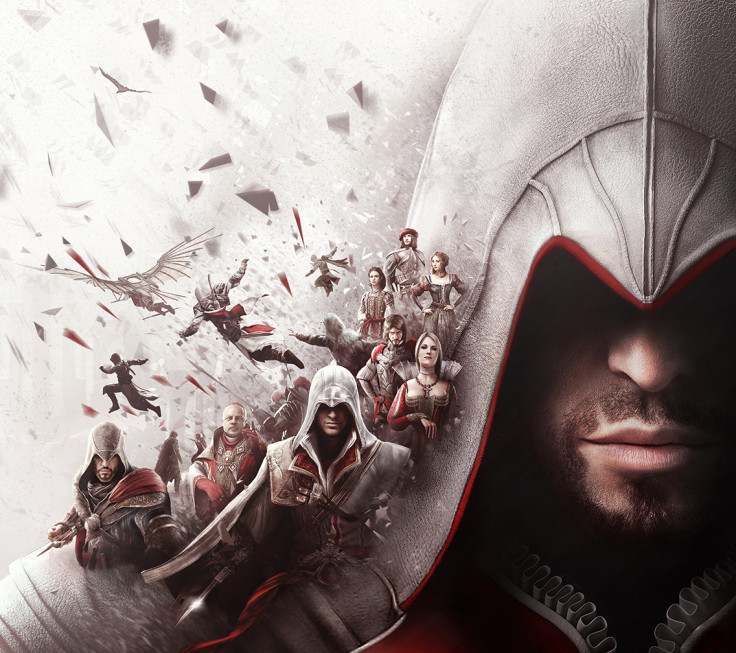 The company also announced that the franchise has hit a new sales milestone, having sold over 100 million copies since its debut in 2007. It joins the ranks of other successful franchises including Grand Theft Auto, Final Fantasy, Mario, Fifa and Pokémon..
"Creating an Assassin's Creed game is no easy task," senior producer Martin Schelling said in a statement. "It takes the creativity and hard work of many people in many different Ubisoft studios all over the world. To have this franchise join the ranks of those that have reached more than 100m sold is a testament to the teams that have taken on the challenge over the years."
Assassin's Creed brand director Etienne Allonier said while the achievement is "a huge milestone for the Assassin's Creed franchise", they still believe the "best is yet to come".
"Having seen what's gone into this year's movie and into future Assassin's Creed games, we think fans and newcomers alike will be excited by everything Assassin's Creed has to offer," Allonier said.
In February, Ubisoft announced that it would not be releasing a new Assassin's Creed game in 2016, but will be "stepping back and re-examining the Assassin's Creed franchise" following the poor reception to Unity in 2014 and the lacklustre response to last year's Syndicate.
The Ezio Collecion will cost $59.99 (£45.43) and include a coupon for up to $8 off for a ticket to the upcoming movie adaptation starring Michael Fassbender set to release on 21 December.