When Bond's not battling bad guys and saving the world you might find him spending some well-deserved downtime on this Aston Martin AM37 luxury yacht – the first watercraft from the sports car company.
Water-going double-0 wannabes can own the sleek and speedy craft for $1.6 million (£1.2 million) and have it completely customised to their own persuasion.
First shown off at the Monaco yacht Show in 2016, the first AM37 yacht has been delivered to a lucky owner in Miami who worked with Aston Martin's bespoke service, aptly named Q, (after the gadget-bearing character from the James Bond books and movies) and requested to make it match their Vantage AMR car with the same interior trim.
As for on-board gadgets, there are no machine gun or ejector seat buttons – in fact you won't find many switches as a high-tech 15in touchscreen display houses all the boat's control systems instead of physical dials. Owners can control music, mood-lighting, and air-conditioning – all accessed by fingerprint recognition.
Built in collaboration with yacht maker Quintessessence, the 37ft day cruiser comes in two versions with the first available with either twin 370hp diesel engines or twin 430hp petrol engines. Owners who want more speed can opt for the AM37S, which can outrun henchmen with its twin 520hp, 50-knot (58mph) petrol powerplant.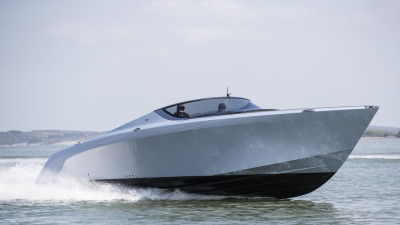 When not maxing out the AM37, in true-to-form style there's also a convertible sofa and a carbon fibre champagne cooler good enough for two bottles of Dom Perignon.
"The AM37 is the result of two years of research and development, challenging the status quo of the nautical world and combining the best in innovative technology and bespoke craftsmanship," says the Aston Martin website.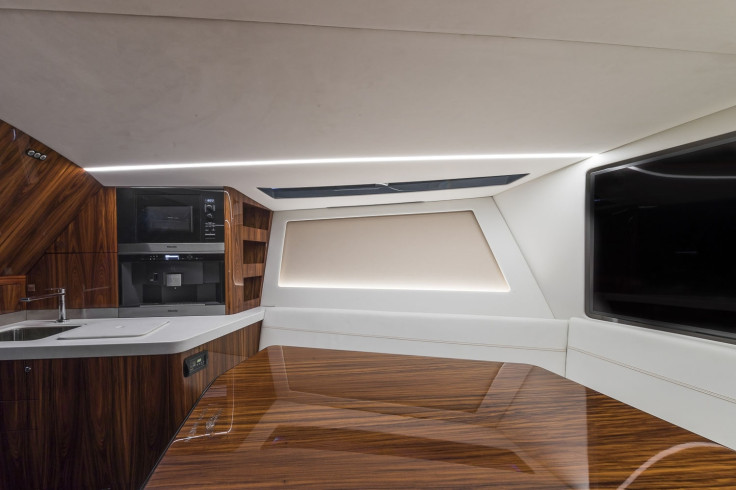 Quintessence claims the powerboats combine "the highest degree of technology and innovation in a unique manner that is sure to delight those who seek the best sports car features in a luxury powerboat. High-tech composite materials used in the construction of the stepped hull provide the type of comfort Aston Martin car owners expect".
Aston Martin follows a number of luxury car manufacturers who have taken to the high-seas with a high-performance powerboat. Lexus revealed its own concept sports yacht powered by twin 5-litre V8 engines based off those found in its RC F and LC 500 sports cars. Porsche meanwhile has also designed a hybrid electric superyacht that will set prospective owners back £10 million.