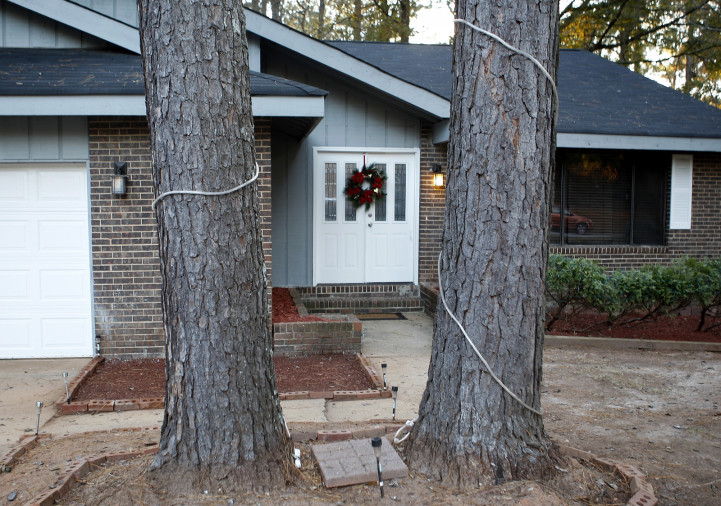 A boy who went missing four years ago has been discovered behind a temporary wall in his father's home in Atlanta, Georgia.
The boy, who has not been named, is now 13-years-old. His mother reported him missing to child welfare but not police when he was just nine.
Five people have been arrested, including the boy's father Gregory Jean, and Samantha Joy Davis, his stepmother. They are facing charges of cruelty to children and false imprisonment. Three others – all juveniles – face charges of obstruction.
Clayton County Police Sgt Kevin Hughes said that the boy's father and stepmother have denied knowing anything about teenager.
The boy had recently found a way to access a phone and was able to contact his mother telling her of his whereabouts.
Initially police failed to locate the boy hidden behind the wall – made of panels from a linen closet erected in the garage.
However, when they resumed the search later they found the boy "frozen with fear", one of the police officers told WSBTV. He has since been reunited with his mother and is said to be "overjoyed".
"They discovered him hidden behind a false wall in the interior portion of the home," Hughes said.
Neighbours said the Jean and Davis had moved in about six months ago and tended to keep themselves to themselves. They said the boy was often seen tending to the garden.
"You can see the yard is immaculate," neighbour Julie Pizarro told Reuters. "The boy kept it that way."
Local media said the boy's father had refused to return him to his mother after he visited him in 2010.
Speaking to BuzzFeed News, Hughes described the moment the pair were reunited: "It was very emotional. She grabbed him and didn't let go him for a while, which is to be understood."