Aubrey Plaza Thrown Out of MTV Movie Awards After Gatecrashing Will Ferrell Acceptance Speech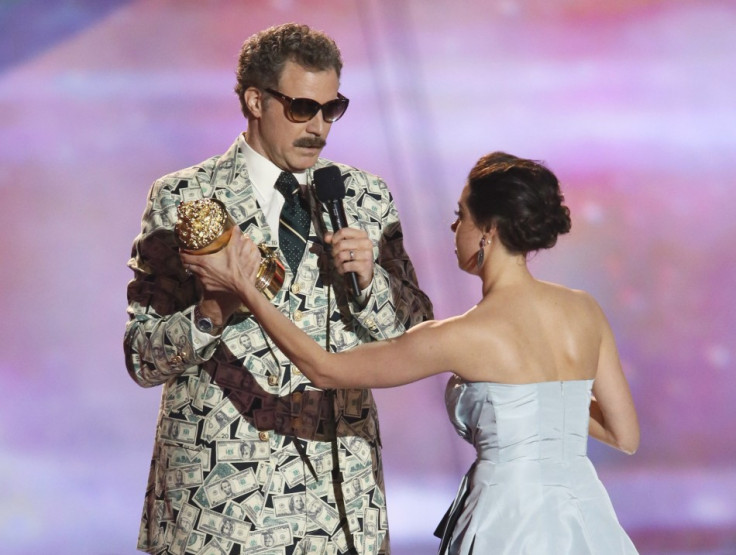 Aubrey Plaza was shown the door from the MTV Movie Awards after she interrupted Will Ferrell while accepting his Comedic Genius Golden Popcorn.
The 28-year-old Parks and Recreation actress, who wrote her upcoming movie's title, The To Do List, on her chest, walked up barefoot on stage, carrying a drink and tried to take the trophy from Ferrell. The 45-year-old comedian kept a grip on the gong and Plaza returned to her seat in the front row. As she sat down, she spilled the contents of her drink onto the floor.
"Aubrey Plaza, everyone. Just like we rehearsed it. Perfect, it was perfect. Not too long, not too short. Right on the money," Ferrell joked.
According to MTV news, the stunt was not scripted and displeased producers asked the actress to leave from Sony Pictures Studios, where the ceremony was being held, shortly after the incident.
Plaza later took to Twitter and revealed Kanye West was her inspiration for the act. The rapper had infamously interrupted Taylor Swift's acceptance speech at the 2009 MTV Video Music Awards.
"thanks for the advice @kanyewest went better than planned! #mtvmovieawards #chrisbosh #thesecret," she tweeted.
However, the show was a huge hit with the audience and an average of 3.8m viewers tuned in, according to analytics firm Nielsen.
"I think she wanted to tell me something important, but there was no message," Ferrell later said, "It was just a lot of hot liquor breath. And then ... and a little bit of sweat. And then she ran away. But the ship sailed on."
Meanwhile, the Avengers was the biggest winner of the night taking away the award for Movie of the Year, Best Fight, and Best Villain for Tom Hiddleston.
© Copyright IBTimes 2023. All rights reserved.