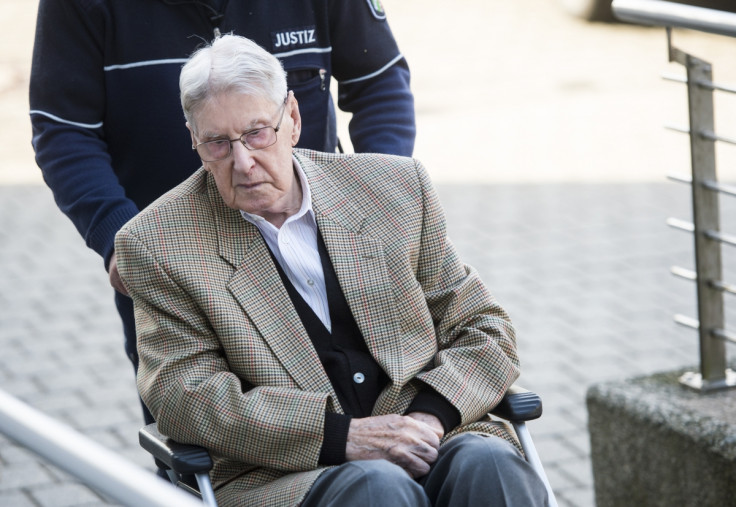 A former guard at Auschwitz has been jailed for five years on Friday (17 June 2016) after being found guilty of being an accessory to 170,000 deaths at the concentration camp during the Holocaust. The 94-year-old Reinhold Hanning was found guilty following a trial in the German city of Detmold after prosecutors argued he was complicit in the deaths for not acting as tens of thousands were killed in front of him.
He claimed he did not know how Auschwitz operated when he arrived there in 1942 aged 20, but soon learned of the atrocities and failed to prevent them. Hanning testified that while he was not directly involved in any of the killings inside the camp, he described how he saw the victims, most of them Jewish, being "shot, gassed and burned".
He added: "I could see how corpses were taken back and forth or moved out. I could smell the burning bodies. I knew corpses were being burned."
The trial also heard from 10 Holocaust survivors, who also recalled their experiences of smelling burning corpses while being kept inside Auschwitz.
Hanning now looks likely to die in prison after being sentenced to five years for his role in facilitating the mass-killings at the camp in Nazi-occupied Poland.
During the trial, Hanning also apologised to the Holocaust survivors for failing to prevent what he saw during his two years at the death camp. "I want to say that it disturbs me deeply that I was part of such a criminal organisation," he said. "I am ashamed that I saw injustice and never did anything about it and I apologise for my actions. I am very, very sorry."
Ronald S Lauder, president of the World Jewish Congress (WJC), welcomed the sentencing of Hanning. He said: "This trial came decades late, but we welcome the fact that it took place, and we are glad that the court allowed for many Auschwitz survivors to be heard. Mr. Hanning got a fair trial, and today's verdict is very clear: He was complicit in mass murder. He was part of a merciless killing machine. Without the active participation of people like him, Auschwitz would not have been possible.
"Yet for seven decades, he and many of his SS comrades were allowed to lead peaceful lives. Most never had to answer for their crimes. It is important that people who took part in genocide and crimes against humanity are being tried in a court of law, irrespective of their age. The Jewish people expects that no stone is left unturned when it comes to dealing properly with the crimes committed during the Holocaust. There can be no impunity for genocide, mass murder or crimes against humanity, and old age is not a mitigating factor."
Hanning's trial is one of the last remaining trials linked to the Holocaust in Germany. Last year, Oskar Groening, also known as the "the book keeper of Auschwitz" was jailed for four years for being an accomplice to the murder of 300,000 prisoners, mainly Hungarian Jews, at Auschwitz.