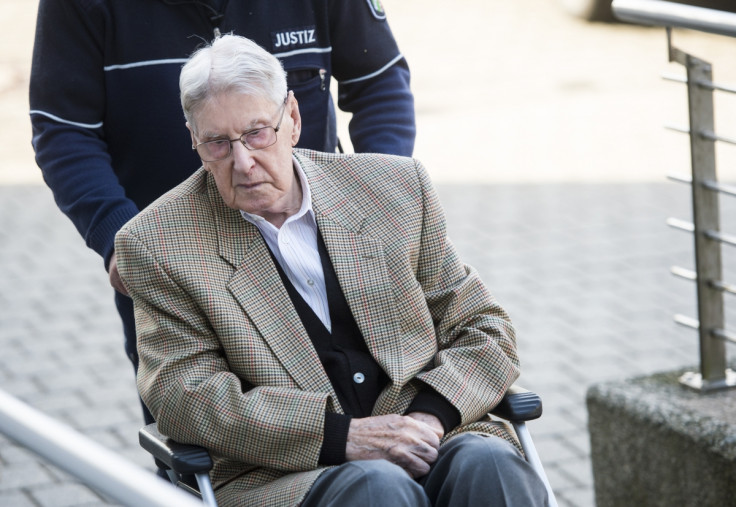 A German court will pronounce its verdict on Friday (17 June) in the trial of a 94-year-old Auschwitz guard, who is accused of being an accessory to the murder of more than 170,000 people.
The trial being held at Detmold court, West Germany lasted for four months and is one of the last Holocaust trials in the country. The prosecution asked the court to sentence Reinhold Hanning, the former guard to six years in prison.
The defence argued for his acquittal citing that he has not personally abused, beaten or tortured anyone in his capacity of a guard, Reuters reported.
Around 10 Holocaust survivors, some of them the same age as Hanning, had testified in court detailing the horrific experiences of seeing piled up bodies and smelling burnt flesh in the death camp.
Hanning, throughout much of the trial remained quiet, unemotional and avoided eye contact with the survivors.
At the end of April, he finally spoke up and apologised to the victims of the Nazi atrocities. He read from a paper, "I was silent my whole life. I want to say to you that I'm deeply regretful at having belonged to a criminal organisation that was responsible for the death of vast numbers of people, for the destruction of countless numbers of families, for misery, torture and suffering on the part of the victims and their relatives. I am ashamed to have stood by and watch those injustices happen and to have done nothing to prevent them," the Guardian reported.
Leon Schwarzbaum, a 95-year-old survivor from Berlin who was used as slave labour, testified in court that he could regularly see flames blazing from the chimneys of the crematoria. He said "So much fire came out of the chimneys, no smoke, just fire."
He added that he did not want Hanning to go to jail and was happy that he apologised but urged the former guard to give more details about his time at the camp. "The historical truth is important," he said.
The case focused largely on the Hungarian operation that was carried out over three months from May to July 1944. Around 425,000 Hungarian Jews were deported to the Auschwitz camp, out of which 300,000 were immediately gassed to death on arrival.
Although there is no evidence to prove that he was responsible for any specific crime, the prosecution based their case on the new legal reasoning that his presence at the death camp helped it function.
An example for such trials was set in 2011, when a death camp guard Ivan Demjanjuk was convicted. Last year, Oskar Groening, also called as "the book keeper of Auschwitz" was given a prison sentence of four years for being an accessory to the murder of 300,000 people at a Nazi death camp.