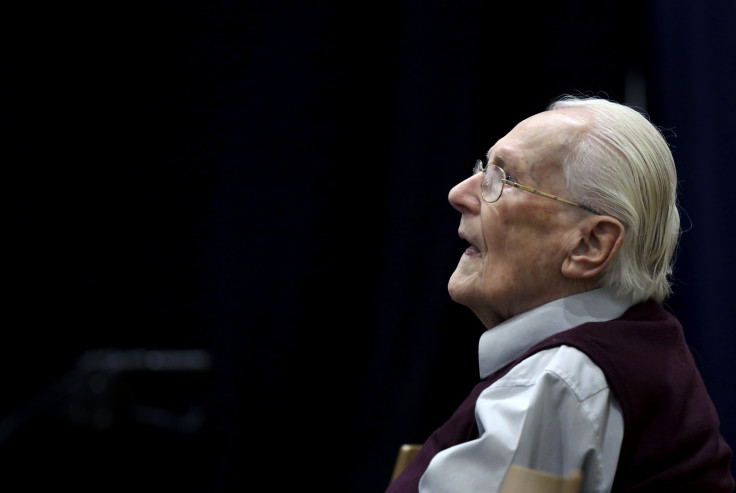 A German court has sentenced a 94-year-old former Auschwitz guard to four years in jail for his role in the mass killing of hundreds of thousands of people.
Judges at Lueneburg state court found former SS non-commissioned officer Oskar Groening guilty of being an accomplice to the murder of 300,000 prisoners, mainly Hungarian Jews, who were deported and gassed at the infamous death camp between 16 May and 11 July 1944.
Prosecutors sought a slightly shorter three-and-a-half-year prison sentence for the man who has admitted to "moral guilt" over the holocaust.
It was not clear if he will actually serve any time behind bars due to his deteriorating health, and for prosecutors argued he should have up to 22 months deducted form this sentence because he was not given a speedy trial after authorities shelved the case against him in the 1970s.
At the trial Groening said he could "only ask my Lord God for forgiveness," for the the atrocities committed during his deployment at Auschwitz from 1942 to 1944.
Despite his general admission of guilt, Groening denied charges against him, arguing he was tasked only with collecting and tallying money and valuables plundered from Jews and other victims, a job that made him infamously known as "the Auschwitz bookkeeper".
Prosecutors instead maintained that, as a camp guard in that period, he should be held responsible for murders committed there, even without evidence that he was directly involved in any killing.
During his closing arguments, public prosecutor Jens Lehmann said that while Groening was a part of a "nearly incomprehensible" number of killings, he himself had "limited contribution" to their deaths.
They also alleged he helped the Nazis benefit economically by dealing with the belongings stolen from the victims.
A key issue in the trial was how often he served on the infamous arrival ramps where some of the new deportees were selected to be sent straight to the gas chambers.
The proceedings have also ignited a debate on the merit of handing prison sentences to elderly former Nazis.
Eva Kor, an 81-year-old Jew who survived Auschwitz but lost her parents and older sisters at the camp in 1944 argued Groening would better serve society doing community service and denouncing the crimes he witnessed to fight neo-Nazis and revisionists.
Others argue that not serving justice, even decades after the crimes, would be an insult to the victims.