A tiger shark measuring four-metres-long has been caught off the coast of Australia just after swallowing a 1.8m-long hammerhead shark whole. The catch, which has been widely reported as being a "monster" shark, has raised a number of issues about culling practices among fishermen, surfers and the government.
The shark was pulled aboard a fishing vessel by a man identified only as Matthew "a while ago" when he was fishing 14 miles off the coast of Tweed Heads, New South Wales.
Matthew told the Northern Star: "I was fighting the hammerhead and [the tiger shark] came up and swallowed it," he said. You can't turn around and go: ' No, don't touch', to something like that." Matthew dives with sharks regularly and said he had seen bigger specimens – dubbing the one caught "a little one". He said he had seen one tiger shark measuring 7.3m-long. Four metres is about average for a tiger shark.
Images of the shark came to light after they were shared on Facebook by Positive Change for Marine Life, which was looking for further information about when and where the shark was caught. Matthew explained he had shared the images to verify the species. He said: "I just had to confirm with a bloke that it was a tiger and not a great white and I used those photos to show him."
Geoff Brooks, who posted the pictures, said the shark had been caught recently, as the result of a kill order issued after it was identified as the shark responsible for an attack.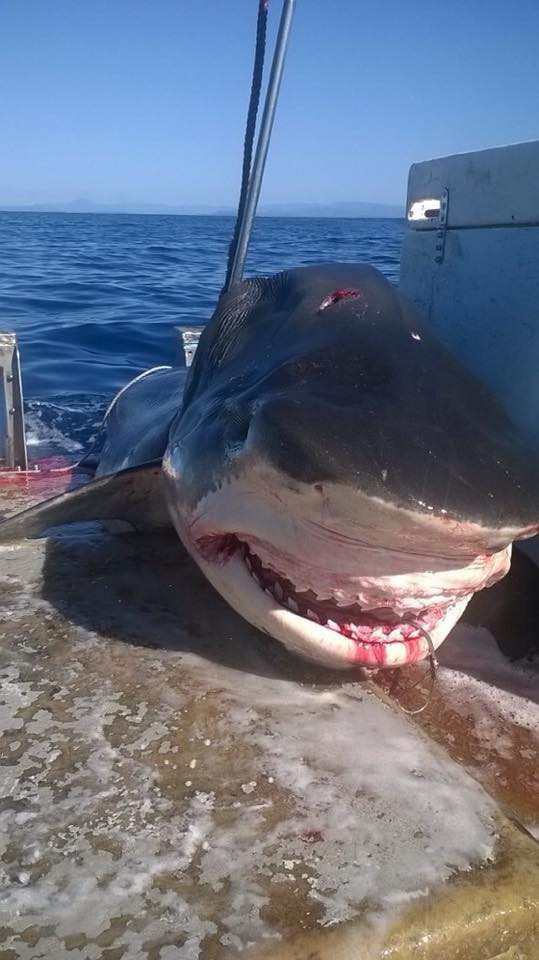 Some reports suggested the shark was handed into Australia's national science agency, CSIRO, but a spokesman said it had not been contacted about the tiger shark. Other reports said the shark had ended up in fish markets – except for the jaws which Matthew kept. He said he kept them as a souvenir, adding: "Metre for metre a tiger shark's bite is bigger than a white. They just have different teeth and a different biting technique."
The catch comes as a group of 200 surfers called for partial cull following a spate of attacks and sightings off the New South Wales north coast in recent months. The group voted for the cull at a community meeting. Don Munro, who organised the meeting, told Fairfax Media: "Surfers are more environmentally aware than most.We live in the water, we have an appreciation that we're in their domain but ... now it's just gone crazy and no one really knows why. The thing is, what price do we put on a human life?"
Matthew also said current measures taken by the Australian government are not effective at preventing attacks – but more culls are not the answer: "To use the word cull in such a heavily regulated industry is a bit harsh because the word cull is the big divider in public opinion. I think the fisheries need to review their quota system because we're restricted very heavily on what we are allowed to take each week. The current system is not going to put the slightest dint in the population of sharks."