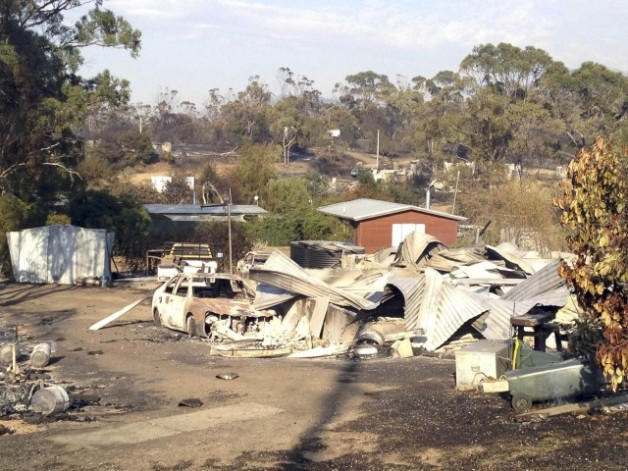 Thousands of people have been left stranded and hundreds more made homeless by wildfires sweeping through the Australian island state of Tasmania.
South-eastern regions of the country are experiencing the worst fires since 'Black Saturday' almost four years ago, when 173 people in rural Victoria lost their lives.
Record-breaking temperatures, high winds and drought have left Tasmania the worst hit state, with a total fire ban declared as temperatures in the state capital Hobart reached a record high of 41C on Friday. The heatwave is likely to spread to other parts of the country this week, with Melbourne also expected to hit 41C.
Police in Victoria say they will target known and suspected arsonists as the state braces for extreme temperatures, the Sydney Morning Herald reported.
Victoria Country Fire Service spokesman Malim Watts said a predicted wind shift next week threatened to exacerbate conditions.
Forty separate fires are burning in Tasmania, four of which are out of control. A flotilla of local vessels has been bringing in supplies, while hundreds of survivors have been evacuated by sea.
The BBC's Nick Bryant told the Today programme on Radio 4: "There's this terrible habit in Australia of some people called firebugs. Arsonists who go out when conditions are particularly bad and deliberately set fires. At least one of the most devastating fires on 'Black Saturday' was caused by arsonists. That's the sort of fears the emergency services have. They are not only dealing with nature; they are dealing with people who deliberately go out to cause havoc."
Earlier this week a firebug was being hunted in South Australia after two large grass fires. In December in Victoria two men, aged 87 and 32, were charged with starting fires, while in New South Wales two schoolboys, aged 11 and 14, were arrested and charged after lighting a blaze in bushland, which sent one man to hospital.
In Tasmania, a resident of in the hard-hit town of Dunalley, east of Hobart, where a police station and school were among the buildings destroyed, told ABC radio: "All I could do was drive the car out of the shed, drive across the other side of the road and stand back and look at the whole place just being engulfed in flames, just like a movie."
The main road to the peninsula has been cut off, leaving thousands stranded, many of them tourists who sought refuge on the beaches. Acting Police Commissioner Scott Tilyard said it had been "'a long night for many people but the main thing is that they have been safe".
Mike Brown, chief officer of the Tasmanian Fire Service, said: "Clearly, it's going to take a long time and a lot of work to properly contain these fires."
Julia Gillard, the Australian prime minister, warned the public that safety must come first: "My message is there's only one you," she told ABC. "Everything else in life, at the end of the day, no matter how precious, can be replaced."
A German woman died while walking in 40-degree heat in Cape Otway, Victoria, the Sydney Morning Herald reported.