Five swimmers who were stranded on a remote island off the east coast of Australia were rescued after scrawling a giant SOS message into a sandbank.
The group had been stuck out at sea for nine hours after their boat's anchor failed and the vessel drifted away. They had been snorkelling around a remote sandbar on Monday near Wigton Island, Queensland, when their boat began to move, with their clothes, water suncreen and mobile phones still on board.
Lyn Forbes-Smith told the Courier-Mail that their vessel moved before they had time to react. She explained how the group of five, one female friend and three male friends, realised they were facing the prospect of spending a night stranded on the island.
"We had sort of made plans about what we'd do on the rock for the evening," she said. "We had reef walkers on thankfully, but we had no food, water, cream, hats, not much at all."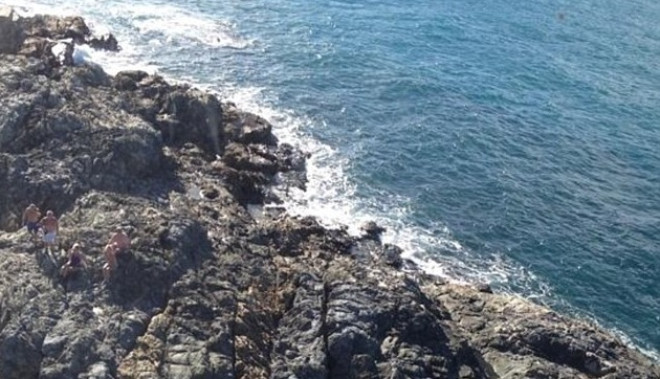 Ms Forbes-Smith added: "We just looked for higher ground, we looked for rocks where five of us could huddle together because we didn't really want to separate, and we wanted to be out of the wind as best as possible."
She explained that they were concerned that the sandbar, which contained the SOS message, would disappear with the tide. The group remained hopeful that emergency services would be alerted when their friends realised they were missing.
The group had set off from Keswick Island towards Wigton Island at around 8am local time for the snorkelling trip.
The alarm was raised when a passing boat spotted the group's unmanned, drifting vessel. An RACQ-CQ rescue helicopter was dispatched and saw the giant SOS message. The castaways were then found and transported back to dry land.
Aside from being treated for sunburn and dehydration, Damien Kross, a crew member on board the rescue helicopter, said the five were "fine".
He said: "They were a little bit dehydrated but we winched them to safety and brought them back here [to Mackay on the mainland] for quick medical attention and they were all fine."
Craig Gilbert, one member of the rescued group, told ABC news: "We saw the helicopter and we thought, 'Oh, you beauty' - and then it disappeared and we thought, 'Oh no - we better look out for our beds for the night' - then it came back probably 20 minutes later."