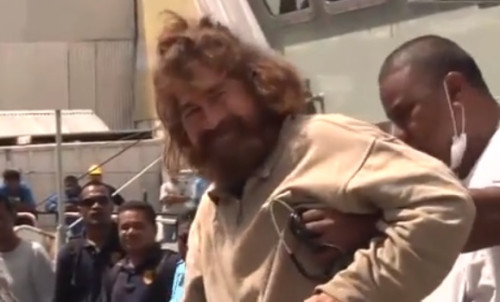 Castaway José Salvador Alvarenga is facing questions about his epic spell spent adrift on a fishing boat.
The 38-year-old claimed he survived 13 months alone in the ocean by eating fish, turtles and seagulls, until being rescued near Ebon Atoll in the North Pacific ocean, this week.
But Alvarenga's well-fed appearance and rosy cheeks jarred with the physical condition of castaways who end up lost on the high seas. Alvarenga's hearty appearance suggests a man who munched his way through whole flocks of seagulls and turned the turtle into a threatened species with a healthy appetite to boot.
Fellow fishermen are puzzled by the Mexican's lack of scurvy - caused by a lack of fruit and vegetables, and also the absence of any ailment apart from slightly swollen ankles and a weaker-than-normal immune system.
Boat owner Cesar Castillo told AP. "There was a case from around here of fishermen who survived 27 days before they were rescued by a Japanese ship but it's hard to think how anybody could go more than six or seven months without getting scurvy at least."
The Raft of the Medusa, Alvarenga's experience certainly was not.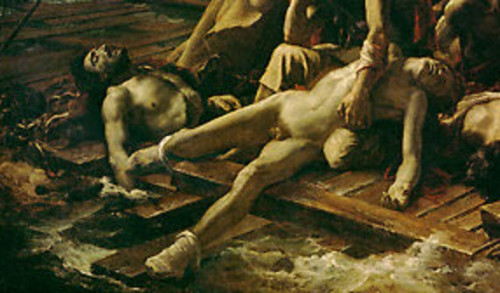 Doubts about his sea adventure were voiced by Marshall Islands acting secretary of Foreign Affairs, Gee Bing. He said: "It does sound like an incredible story, and I'm not sure if I believe his story. "When we saw him, he was not really thin compared to other survivors in the past.
"I may have some doubts. Once we start communicating with where he's from, we'll be able to find out more."
Similar reservations was expressed by the United States ambassador to the Marshall Islands. Tom Armbruster said: "It's hard for me to imagine someone surviving 13 months at sea."
But he added: "It's also hard to imagine how someone might arrive on Ebon out of the blue. Certainly this guy has had an ordeal, and has been at sea for some time."
However, Alvarenga's vanishing act is supported in part by the testimony of his own family, who have expressed their amazement at him being found alive. But he disappeared from their lives eight years before he embarked on his headline-making adventure.
Relative Maria Julia Alvarenga told a Salvadorian newspaper: "I cannot find the words to describe how I feel, as his mother, to know that he has been found."
Meanwhile, ocean experts have stated that currents could carry a boat from the Mexico coast to the Marshall Islands in a 6,200 voyage taking months to complete.
Only time will show in what way Alvarenga's adventure resembles Robinson Crusoe: an epic voyage or a great work of fiction?