Australia: PM Tony Abbott says 'nope, nope, nope' to Rohingya refugees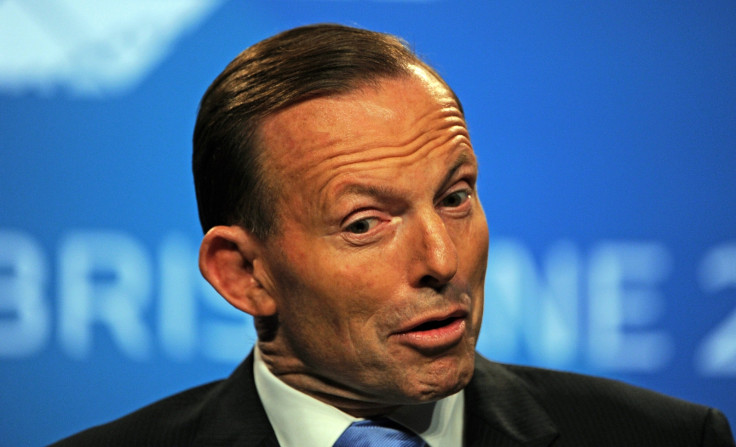 Australia's Prime Minister Tony Abbott has refused to join the governments of Indonesia and Malaysia in their commitment to offer temporary shelter to Rohingya Muslim asylum-seekers saying "Nope, nope, nope".
Abbott shut down any suggestions that some of the 7,000 migrants stranded at sea could be resettled in Australia citing the so-called "pull factor".
"Australia will do absolutely nothing that gives any encouragement to anyone to think that they can get on a boat, that they can work with people smugglers to start a new life," he said, according to the Guardian. "I'm sorry. If you want to start a new life, you come through the front door, not through the back door."
"Don't think that getting on a leaky boat at the behest of a people smuggler is going to do you or your family any good," he continued.
His stance was criticised by the Indonesian government which called on Australia to contribute to the resettlement of refugees as part of the UN Convention on Refugees.
"My point is this: countries that are parties to the convention on refugees have a responsibility to ensure they believe in what they sign," Indonesian Foreign Ministry spokesman Arrmanatha Nasir said.
Indonesia, which is not a signatory of the UN convention, has agreed with Malaysia to take in 7,000 Rohingya stranded at sea after their smugglers abandoned the boats for fear of the Thai crackdown on human trafficking.
Malaysian Prime Minister Najib Razak has ordered the Malaysian navy and coastguard to conduct search and rescue operation in the Andaman Sea. "We have to prevent loss of life," Najib said in a tweet.
Nearly 3,000 migrants have been brought ashore or rescued off the coasts of Indonesia, Malaysia and Thailand. Aid workers have warned that up to 7,000 more migrants may be stranded in the Andaman Sea with nowhere to go and limited supplies of water and food.
Australia is a signatory to the United Nations Refugee Convention and is one of the world's most generous countries on a per capita basis in taking in refugees, resettling 13,750 a year.
© Copyright IBTimes 2023. All rights reserved.