Indonesia has pushed back yet another boat crowded with Rohingya and Bangladeshi people after nearly 3,000 migrants have been brought ashore or rescued off its coasts and those of Malaysia and Thailand in a week.
The navy off Indonesia's Aceh province has deployed four warships and one plane in an attempt to prevent migrant boats from entering Indonesian waters after a vessel was blocked while it was heading across the Malacca strait from Malaysia.
"It was heading to Indonesian waters from Malaysia and was denied entry," Indonesian armed forces spokesman Fuad Basya said. "It was intercepted, and we stopped it from passing."
Regional governments of Indonesia, Malaysia and Thailand have refused to engage in search-and-rescue operations, instead repulsing the boats to the sea after providing basic water and food. Phil Robertson of Human Rights Watch Asia accused the Thai, Malaysian and Indonesian navies of "playing a three-way game of human ping pong".
The latest pushback came after gruesome details emerged of deadly fighting onboard vessels that ran out of water and food. Survivors from one stricken boat that was rescued by fishermen off Aceh recounted of a brawl between the Rohingyas, the persecuted Muslim minority from Myanmar's Rakhine state, and Bangladeshis, resulting in many thrown overboard.
"We conducted interviews and spoke to many refugees who confirmed the same story. These two groups were fighting for food and many leapt over the deck, although we don't have an exact figure," the local spokesman for the International Organization for Migration (IOM) Jeff Labovitz told IBTimes UK.
A group of the 700 people rescued off Aceh told the BBC that about 100 had died over the food fight. Three men said people were stabbed, hanged or thrown overboard.
Aid workers have warned that up to 8,000 more migrants may be stranded at sea off the coasts of Thailand, Indonesia and Malaysia with nowhere to go and very limited supplies of water and food. The UN have warned of a "massive humanitarian crisis" looming on the Rohingya migrants because no government is willing to accept the migrants.
Members of local and international non-governmental organisations have embarked on boats to conduct search and rescue operations to find vessels in distress in the Andaman Sea.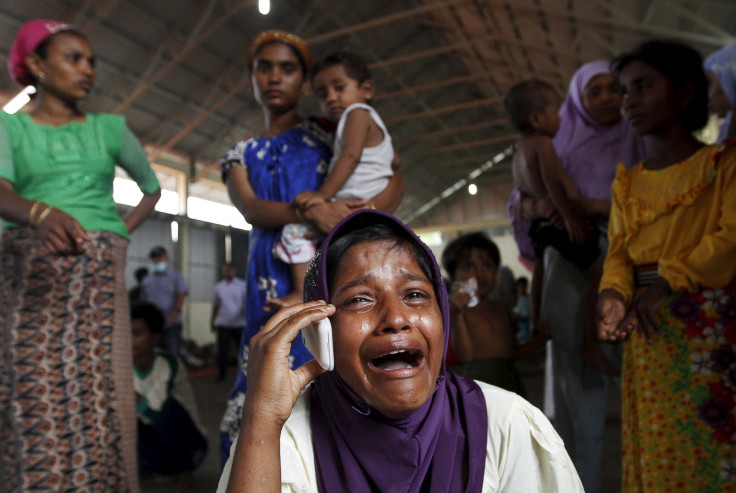 "We'd just missed a few boats by a matter of minutes," Matthew Smith, executive editor of Fortify Rights group, told IBTimes UK. "Thai authorities are still pushing boats back or out of their territory. There has been no change in Thai policy."
Smith said that these operations are "tricky" because once the Thai navy makes contact with these boats "there's not much time to provide assistance before the boat gets towed out of Thai waters".
"We pack speedboats with basic supplies. In some cases the Thais are providing milk and water before pushing them back. However, when you have hundreds of people living in difficult conditions, the biggest concern is that they may have developed serious health problems and they don't receive adequate assistance."
Two boats crammed with at least 450 Rohingyas and Bangladeshis were towed by Thai authorities in the past day, according to Smith. Fisherman also spotted alleged armed smugglers on a boat that was dragging a refugee vessel out of Thai water. The smugglers opened fire and the Thai fishermen reported it to the navy, he said.
"If confirmed, that would be really concerning because it would indicate that human traffickers are still operational in Thai waters," he said, adding that other reports say that smugglers are back to business also in Malaysia.
Malaysian prime minister Najib said that the country was "very sympathetic towards those who were floating in the open seas" but it must not be burdened with this problem as there are thousands more waiting to flee from their regions".
But Southeast Asian nations are under increased pressure to act to prevent an humanitarian disaster in their waters. Malaysian Foreign Minister Anifah Aman is due to host talks with his Indonesian and Thai counterparts this week.
Malaysia, current chair of regional grouping ASEAN, on Sunday pressed Myanmar to engage in talks on the issue.