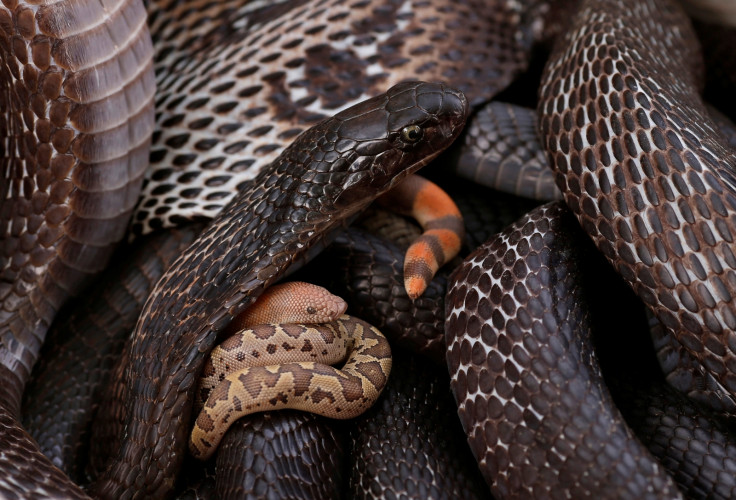 A box full of live venomous snakes, tarantulas and Asian forest scorpions has been caught by the Australian Border Force (ABF) in Melbourne after they X-rayed a parcel marked "two pair shoes".
The mail consignment from Northern Europe was found to contain a plethora of live reptiles and arachnids, including six venomous vipers and two of the world's third–largest tarantulas.
Among the seized animals were three ball pythons, two hognose snakes, six vipers, two Colombian giant tarantulas and five Mexican redknee tarantulas. The consignment also included two Brazilian salmon pink tarantulas and four Asian forest scorpions.
Soon after the discovery, ABF consulted biosecurity staff from the Department of Agriculture and Water Resources, which said these animals were a "high biosecurity risk" to Australia due to their capacity to carry pests and diseases.
The department also said it would investigate the incident further, the Guardian said.
Lyn O'Connell, deputy secretary of the Department of Agriculture and Water Resources responsible for biosecurity, said Australia has strict rules to keep a watch on the arrival of animals in the country.
"This detection appears to be a clear attempt to get around the rules that are in place to protect us all.
"No spider is a match for our biosecurity web, we get our tails up when there are scorpions in the mail and if you try send exotic snakes — beware if we find intentional non-compliance, we bite back with the full force of the law," O'Connell said on Monday (3 April).
While praising the custom officials, ABF regional commander for Victoria, James Watson, said the exposure was a great example of Australia's border security processes.
"We are always finding new and unusual things that people are trying to smuggle into the country.
"Whether it be drugs, firearms, illicit tobacco or in this case snakes and spiders, our officers are well trained to identify anything suspicious coming across the border," Watson added.