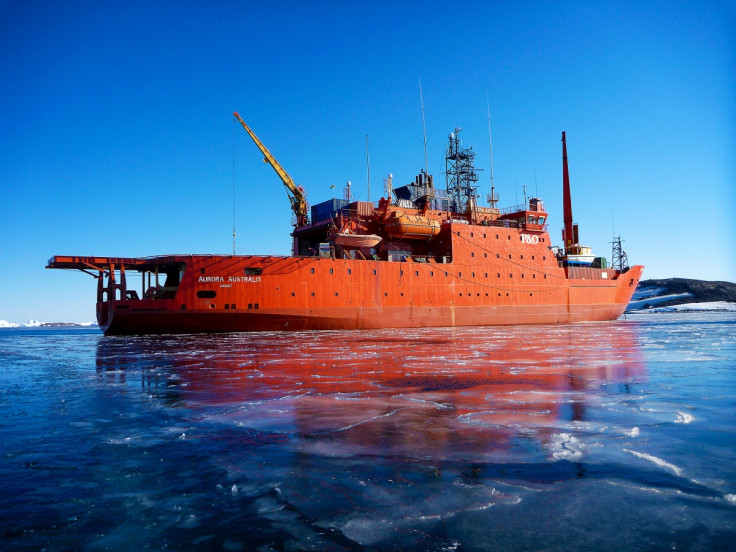 Australia's flagship icebreaker, the Aurora Australis, ran aground at West Arm, Horseshoe Harbour, in Antarctica after breaking away from its mooring at the Australian government's Antarctic division in Mawson on Wednesday (24 February).
The Aurora Australis was commissioned to take a team of marine scientists around the Kerguelen Plateau region for research. It started its journey from Hobart, Australia, on 11 January and arrived at Mawson Station for resupply on 20 February.
Winds of more than 130kmph (80mph) set the vessel on its directionless journey with 68 members and crew on board. The Australian Antarctic Division (AAD) confirmed that all were safe and well and that the ship had managed to stay watertight. "The Australian Antarctic Division is working closely with P&O Maritime Services, owners of the Aurora Australis, to ensure the safety of all passengers and crew as a priority," the division said.
However, due to the continuing blizzard authorities are unable to do a thorough inspection of the vessel to check for damages.
Operations manager Shaun Deshommes of P&O Maritime Services said the boat's starboard side was resting alongside West Arm and the vessel was listing. "The crew have been able to secure additional mooring lines and, despite the strong winds, the ship is sheltered from heavy swell and remains stable," he added.
According to AAD, winds need to drop to 55kmph for the expedition members on board to be rescued. "They will remain on the ship until conditions ease and it's safe to move them over to Mawson Station," AAD director Dr Nick Gales said.
"We're thinking that conditions are going to ease overnight Hobart time on Thursday (25 February) night."
Only once a complete inspection is carried out will the AAD decide whether to allow the ship to continue on its voyage. In case not, the crew and equipment will be transferred to another ship or plane.
Attempts to refloat the vessel will occur when the weather conditions ease.
More about Antarctica