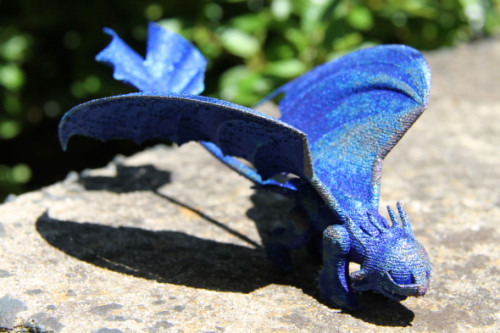 A seven-year-old girl who wrote a letter to scientists asking if they could make her a dragon has got her wish after they created a special 3D printed one from titanium.
A letter written by Sophie from Queensland to Australia's Commonwealth Scientific and Industrial Research Organization (CSIRO) asking for a dragon, was posted on the scientists' website and went viral.
The letter, which began with "hello lovely scientists", also included photos of what she wanted her dragon to look like as well as assurances she would feed it, put a collar on it, put bandages on it when it hurt itself and "play with it every weekend when there is no school".
She said if they created a girl dragon for her she would name it Toothless - like from the DreamWorks animated film How to Train Your Dragon - and Stuart if it was a boy.
"I would like it if you could but if you can't that's fine," she added.
The team at CSIRO took the unusually step in replying to Sophie, but only to tell her the heart-breaking news that despite being proud of what they have achieved over the past 87 years at the agency, they had not "been able to create a dragon or dragon eggs".
Now the team at have revealed that after huge media interest, they have created a blue female dragon using a state of the art 3D printer.
"We couldn't sit here and do nothing. After all, we promised Sophie we would look into it," a spokesperson for CSIRO said.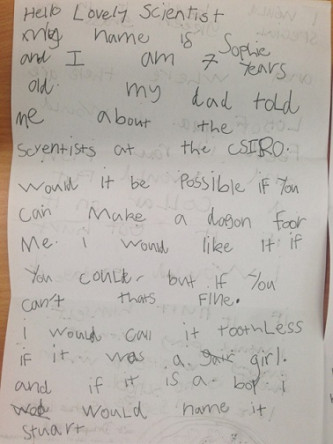 The scientists assured the dragon, made from titanium, will be aerodynamic as the material is super strong but also lightweight.
"Being that electron beams were used to 3D print her, we are certainly glad she didn't come out breathing them instead of fire," said Chad Henry, CSIRO additive manufacturing operations manager.
Sophie's mother Melissah said Sophie was overjoyed with the response from the team.
She told the Canberra Times. "All her friends are now saying they want to be a scientist and Sophie says she now wants to work at CSIRO. She's saying Australian scientists can do anything."
The team responded on its blog post by saying: "We'd love to have you in our team, Sophie. For now, stay curious."