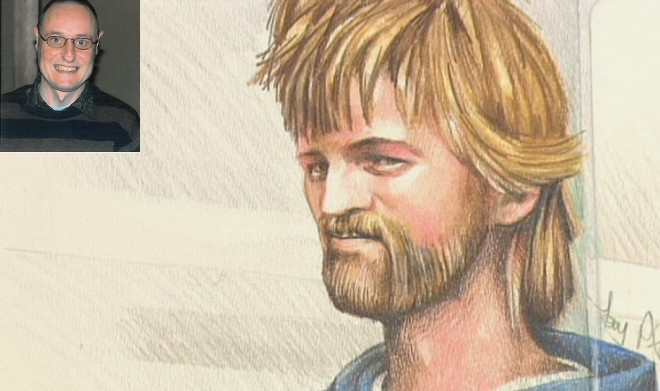 An Australian man who planned the 'perfect murder' including how to get away with the crime has has been jailed - for murder.
Gareth Giles, 26, wrote an 18 point step-by-step plan detailing how he would tie up and strangle victim Russell Hammond and then burn his body to avoid being caught, two months before carrying out the attack.
The document, which was entitled ''The Advocate document'' called Hammond, who was 49 years old, simply "vic", short for 'victim'. It also included reminders to steal Hammond's car keys, wallet and shovels as he and co-accused, 20-year-old Christopher Coulter, had planned to dig a grave to bury him in.
Hammond's body was found burnt, bound and gagged on 5 January 2012, while the victim's burnt- out Mercedes-Benz was also discovered.
Sentencing Giles to 26 years in prison, Australian newspaper The Age reported Supreme Court Justice Betty King saying the murder plan corresponded with the killing in ''a breathtaking way''.
Giles' murder plan, which was created on 13 November 2011, read:

1. Catch bus to vic's home.

2. Advocate makes an entrance.

3. Tie vic up with rope and duct tape.

4. Take vic's possessions, ie car keys, shovels, wallet.

5. Take vic out back.

6. Throw vic in back of Vic's car.

7. Throw vic's possessions in back of car.

8. Drive to burial site.

13. Cover up blood with dirt.

14. Pack up tools.

15. Drive car to burning or drowning site.

17. Burn or drown vic's car.

18. Leave?
Justice King added: "'What is not included are items nine to 12 which entails the burying of the victim and the collecting of his skull. The victim does not have a name. It is just 'vic'.
''It is a chilling document because it is a plan to kill an unknown, random person.''
Both men blamed each other for the murder, with both saying they came out of the toilet at Hammond's home to find the other man strangling the victim.
''You have then, at some stage, some months at least prior to this murder, sat down and prepared a plan on how you would go about killing someone,'' the judge said.
''The crime was entirely motiveless, except for your expressions to your friend about your curiosity and desire to see what it felt like to kill, all of which makes you a person that may be considered very dangerous to our community.''
Giles, who was found guilty of murder by jury in October last year, must serve a minimum 21 years in a jail while Coulter was earlier sentenced to a nominal 25 years jail after he was found unfit to plead.