Australian senator calls for Muslim ban while mocking UK police terror response
Pauline Hanson attacked Muslims, the Metropolitan Police and the Mayor of London in an online tirade.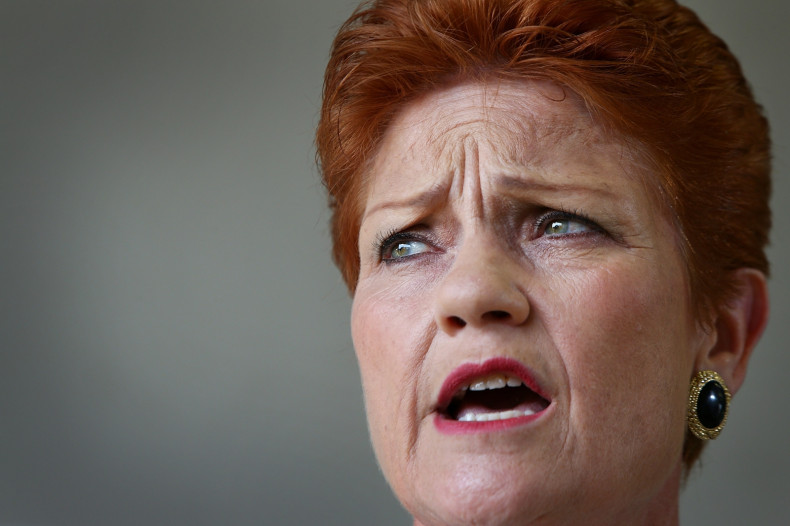 An Australian Senator has called for a ban on Muslims entering her homeland in the wake of the London Bridge terror attack.
Queensland lawmaker Pauline Hanson has been criticised for comments, which also poured scorn on both the Mayor of London and the Metropolitan Police's response to the three terrorists who claimed seven lives on Saturday (3 June).
In a Facebook post, Hanson, who formed the populist right-wing One Nation Party in 1997, ridiculed the "Run, Hide, Tell" advice issued by London's police force as the attack unfolded.
She said yesterday (4 June): "While authorities reduced the terrorism threat in the UK, they were busy coming up with a new slogan to release during the next terrorism [sic] attack".
The post accompanied a picture which parodied the "Run, Hide, Tell" message by appropriating each term to mock centrist and left-wing politicians and multiculturalism.
"We must stop radical Islam [sic] numbers from increasing here in Australia. Islamic immigration must end in Australia," she added.
Green Party Leader Richard Di Natale today (5 June) responded to his fellow senator's remarks in unequivocal terms, pleading for Australians to show unity and pointing out that Muslims around the world were frequently victims of terrorist attacks.
"Pauline Hanson's response to the indiscriminate violence we have seen in recent days in London, Egypt, Kabul, Iraq and Manchester are a calculated intervention to promote her own agenda of division and hatred," he said.
"It's intended to generate controversy so I won't add to it except to say that using these violent and hateful events to further her own political cause speaks volumes about the person she is."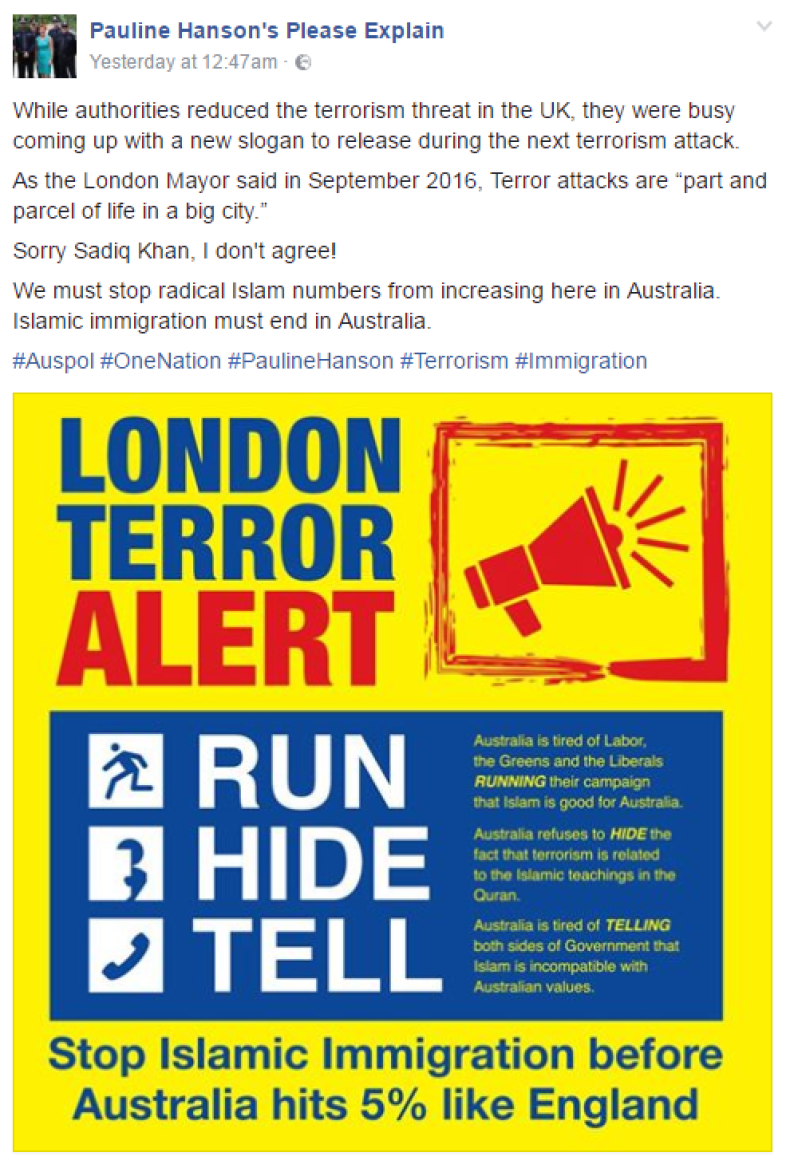 Hanson, who was disendorsed by the Liberal Party in 1997 after making controversial remarks about Aborigines, also repeated a slur against London Mayor Sadiq Khan based on an quote taken out of context.
She repeated his statement that terror attacks were "part and parcel of life in a big city", implying that Khan did not take terrorism seriously.
The same quote was used by Donald Trump Jr in the aftermath of March's Westminster terror attack to suggest that Khan, a Muslim, took a blase view of terrorism.
In fact, Khan had made the comments in the context of urging against complacency from police and security forces in major cities. This was widely pointed out in the wake of the Trump Jr comments.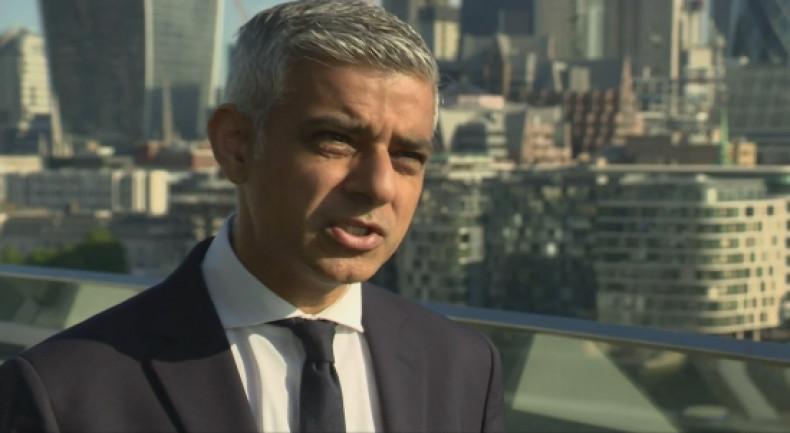 Khan was also on the receiving end of a tirade from Trump Jr's father, the US president, after the London Bridge attack.
Trump tweeted: "At least 7 dead and 48 wounded in terror attack and Mayor of London says there is "no reason to be alarmed!"
But, again, the Mayor of London's remarks had been taken out of context. He had been explaining that the extra security presence in the capital was a precautionary measure and no active plot was on the authorities' radar.
The UK terror threat level has remained at "severe" throughout the weekend and into Monday.After the MEN Arena bombing it was lifted to "critical" for several days.