Hundreds of people rallied in cities across Australia calling for fundamental change over the treatment of children being held in juvenile detention centres. Protesters gathered to express shock and outrage at footage aired by the Australian Broadcasting Corporation (ABC) which showed children being abused whilst in custody.
A Four Corners programme broadcast on 25 July showed teenager Dylan Voller being strapped half-naked to a chair, hooded and handcuffed. Voller allegedly suffered abuse on a number of occasions over a five-year period from October 2010 onwards.
The programme also showed teenagers – mostly indigenous – being tear-gassed and held in solitary confinement for weeks at the Don Dale youth detention facility in Northern Territory. Aghast at the revelations, demonstrators turned out in Melbourne, Sydney, Brisbane, Adelaide, Darwin, Perth and Canberra.
Australian rapper Adam Briggs said the problem is national rather than regional. "The elephant in the room is that it is a racism problem, but they aren't addressing that," Briggs told Reuters.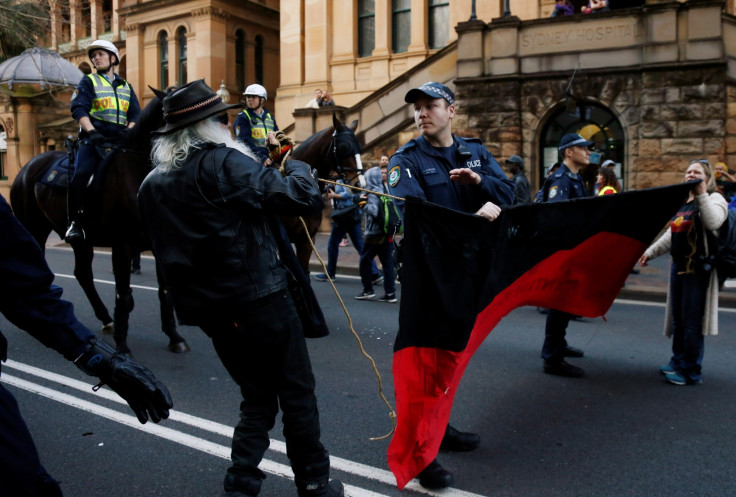 In the wake of the programme, Prime Minister Malcolm Turnbull said he was "appalled" by the practices and announced a Royal Commission into the treatment of children at the Northern Territory detention facility.
Opposition leader Bill Shorten said: "My vision of Australian justice is not to see a 14-year-old boy hooded, restrained and strapped to a chair."
The disturbing incidents in one of the world's wealthiest nations has drawn international condemnation. On 30 July, the UN's High Commissioner for human rights, Zeid Ra'ad Al Hussein expressed "shock" at children being held in "inhumane conditions and treated cruelly" in a statement.
"Some children were held in isolation for extended periods, sometimes for several weeks, in hot and dark cells with no access to fresh air or running water. In one incident, six children were tear-gassed by prison guards," a spokesman said.
He added: "According to the children's testimony, these abuses took place over several years. Most of the children who were held at the detention facility are deeply traumatised." The UN noted that the treatment could amount to a breach of the Convention on the Rights of the Child and the Convention Against Torture and Other Cruel, Inhuman and Degrading Treatment, both of which Australia is a party to.
A 2015 report showed that indigenous people were 26 times more likely to be in detention compared to non-indigenous people. Furthermore, indigenous people make up around 3% of Australia's population. In the Northern Territory, aborigines represent 94% of juvenile inmates.