Muslims in Austria claim controversial reforms to the country's 1912 Islam laws demonstrate mistrust by the government towards their community and some are threatening to appeal against them in the constitutional courts.
Passed in 1912, Austria's "Law on Islam" officially recognised the religion for the first time and gave Muslims the same rights as other religious groups including Buddhists, Jews, Catholics and those of the Lutheranism faith.
These rights included the right to have religious education in state schools, freedom to administer certain aspects of their own affairs and the right to worship in public.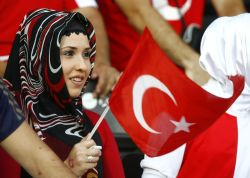 Under the reforms, Austria's half-million Muslims will have their religious holidays protected and there will also be funding to train twice as many imams as before.
However the changes also include a ban on foreign funding for Muslims - a rule which does not apply to other faiths. Any group which represents Muslims will also be required to use a standardised German translation of the Koran.
Defending the reforms, Integration Minister Sebastian Kurz said: "What we want is to reduce the political influence and control from abroad and we want to give Islam the chance to develop freely within our society and in line with our common European values."
Kurz claimed the changes had nothing to do with recent attacks in France and Denmark. "We want an Islam of the Austrian kind, and not one that is dominated by other countries."
Most Muslim groups within Austria, including the largest, the IGGiO, reluctantly accepted the reforms, but IGGiO spokeswoman Carla Amina Baghajati told German broadcaster Deutsche Welle she believes "The Islam law has become a security law in the eyes of the public."
"The old law was meaningful to Muslims. It gave us deeply emotional ties to Austria," she added. "After this new law is passed, I'm not sure if Muslims will still feel the same strong emotional bond."
IGGiO's youth wing were against the change and the Turkish-Islamic Union in Austria (ATIB) went further, vowing to challenge the bill. The Turkish-based group funds many mosques in Austria and some imams have been criticised for not learning German. Turkey's head of religious affairs, Mehmet Gormez said: "Austria will go back 100 years in freedom with its Islam bill."
Austria's Far-Right Freedom Party also opposed the measures, saying they didn't go far enough. Recently, anti-Muslim opinion has been more apparent in Austria, which had its first Pegida march recently. The march was opposed by a much larger group of anti-fascists.