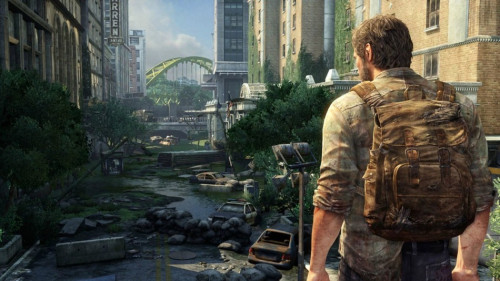 The Last of Us is set to sweep another video game award show, having picked up 10 nominations at this year's video game Baftas.
Dominating each of the major categories, Naughty Dog's post-apocalyptic survival action game is joined by Rockstar's Grand Theft Auto V, which has nine nominations, and British PS Vita exclusive Tearaway, which has eight.
The Last of Us is up against stiff competition in the Action & Adventure, Artistic Achievement, Audio Achievement, Best Game, Game Design, Multiplayer, Music, Story and performance categories.
Its stars, Ashley Johnson and Troy Baker, are each nominated for their vocal performances in the PlayStation 3 exclusive.
Indie darling Papers Please is another big winner, bagging four nominations in the Best Game, Game Design, Game Innovation and Strategy and Simulation categories.
Dara O'Brien will host the awards show at eastg London's Tobacco Dock on 12 March.
The full list of nominations is as follows...
Best Game
Assassin's Creed 4: Black Flag
Grand Theft Auto V
The Last of Us
Papers, Please
Super Mario 3D World
Tearaway
British Game
DmC Devil May Cry
Grand Theft Auto V
Gunpoint
LEGO Marvel Super Heroes
The Room Two
Tearaway
Action & Adventure
Assassin's Creed 4: Black Flag
BADLAND
Grand Theft Auto V
The Last of Us
LEGO Marvel Super Heroes
Tomb Raider
Artistic Achievement
Beyond: Two Souls
BioShock Infinite
DEVICE 6
The Last of Us
Ni No Kuni: Wrath of the White Witch
Tearaway
Audio Achievement
Battlefield 4
BioShock Infinite
DEVICE 6
Grand Theft Auto V
The Last of Us
Tomb Raider
Debut Game
BADLAND
Castles in the Sky
Gone Home
Gunpoint
Remember Me
The Stanley Parable
Family
Animal Crossing: New Leaf
Brothers: A Tale of Two Sons
Rayman Legends
Skylanders Swap Force
Super Mario 3D World
Tearaway
Game Design
Assassin's Creed 4: Black Flag
Grand Theft Auto V
The Last of Us
Papers, Please
Tearaway
Tomb Raider
Game Innovation
Brothers: A Tale of Two Sons
Grand Theft Auto V
Papers, Please
The Stanley Parable
Tearaway
Year Walk
Mobile & Handheld
BADLAND
DEVICE 6
Plants vs. Zombies 2
Ridiculous Fishing
The Room Two
Tearaway
Multiplayer
Battlefield 4
DOTA 2
Grand Theft Auto V
The Last of Us
Super Mario 3D World
World of Tanks
Music
Assassin's Creed 4: Black Flag
Beyond: Two Souls
BioShock Infinite
The Last of Us
Super Mario 3D World
Tearaway
Performer
Ashley Johnson (Ellie) – The Last of Us
Courtnee Draper (Elizabeth) – BioShock Infinite
Ellen Page (Jodie) – Beyond: Two Souls
Kevan Brighting (The Narrator) – The Stanley Parable
Steven Ogg (Trevor Phillips) – Grand Theft Auto V
Troy Baker (Joel) – The Last of Us
Sport
F1 2013
FIFA 14
Football Manager 2014
Forza Motorsport 5
GRID 2
NBA 2K14
Story
Brothers: A Tale of Two Sons
Gone Home
Grand Theft Auto V
The Last of Us
Ni No Kuni: Wrath of the White Witch
The Stanley Parable
Strategy & Simulation
Civilization V: Brave New World
Democracy 3
Forza Motorsport 5
Papers, Please
Surgeon Simulator 2013
XCOM: Enemy Within
BAFTA Ones to Watch Award in association with Dare to Be Digital
Project Heera: Diamond Heist
Chinchkar Tanmay Subhash, Shastry Neeraj Pramod, Dhongde Shashank Sunil, Dave Dhruv Prakashchandra, Shriram Srinivasan (Mazhlele)
Size DOES Matter
Mattis Delerud, Silje Dahl, Lars Andersen, Trond Fasteraune, Nick La Rooy (Team DOS)
The Unknown
Chenying Wan, Qiwei Feng, Luyue Zhang, Zhaoxuan Li, Neil Cullen (iKnow)