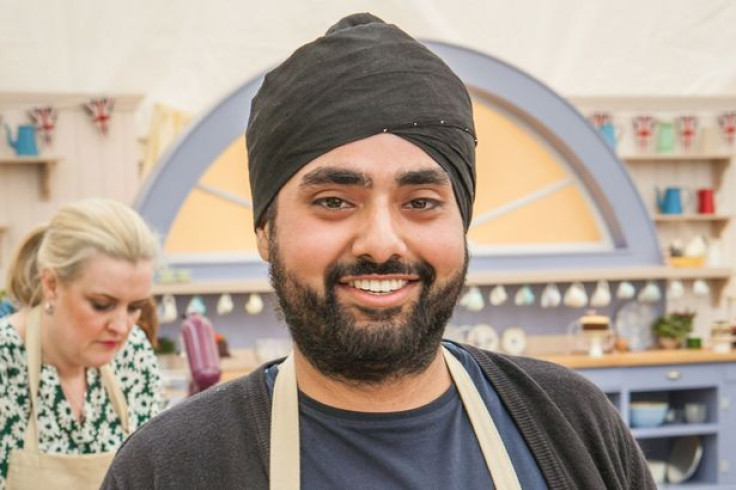 Bake Off fans have turned out in support of Sikh vegan baker Rav Bansar on the BBC1 hit show following his claims of being a victim of racist abuse.
The 28-year-old rising culinary star – who often bakes with flaxseed as an egg replacement in cakes – tweeted about an incident whereby he was insulted in the street after being recognised as a contestant on the BBC1 baking contest.
He wrote on the social media sharing site: "So today I was asked 'are you the p*ki on the not so British bake off?' Really, in 2016?"
Following a slew of supportive messages, Bansal tweeted this morning (2 September): "Thank you for all the kind messages, I am fine, honestly It's Friday and the weekend is in touching distance, all good!! #PositiveVibes".
His new fans were outraged by the racial incident and churned out messages of support, with one writing: "@RavSBansal You are a Great BRITISH baker. Just like many of us before on #GBBO. Nuff said to those ignorant to think otherwise" while his co-star Candice Brown replied: "@RavSBansal ridiculous human being. Not worth the air Rav. We love you lots".
Another Twitter user expressed their shock, writing: "@RavSBansal I can't believe that Rav! There are some horrible people out there!" as another one was equally outraged, claiming: "@RavSBansal forget the ignorant fools. Wear that crown loud and proud King" in reference to Rav's turban.
Rav, who lives in Erith, in south-east London, and is currently participating in the seventh series of the long-running show, also received messages from Bake Off contestants – past and present – of various ethnic backgrounds.
Ali Imdad, who appeared on the fourth series of the baking show, replied with: "oh Rav, I still get it. It's an unfortunate part of being on Bake Off. I throw chapattis at them now."
Benajmina Ebuehi, who is a contestant on this year's show wrote: "So horrible. Get @selasigb to sort them out."
Most recently, last year's Bake Off winner, Nadiya Hussain, has spoken about the racist abuse she has received as a British Muslim.
Speaking on Desert Island Discs, she said: "It has happened. Through my early teens when you had big things happening in the news like September 11...you do get abuse and I did get abuse.
"I've had things thrown at me and been pushed and shoved. It sounds really silly because I feel like that's just become part of my life now. I expect it. Absolutely I expect it," she added.
The Great British Bake Off continues next week at 8pm on BBC1 Wednesday 7 September. Read our exclusive interview with Rav Bansal here.