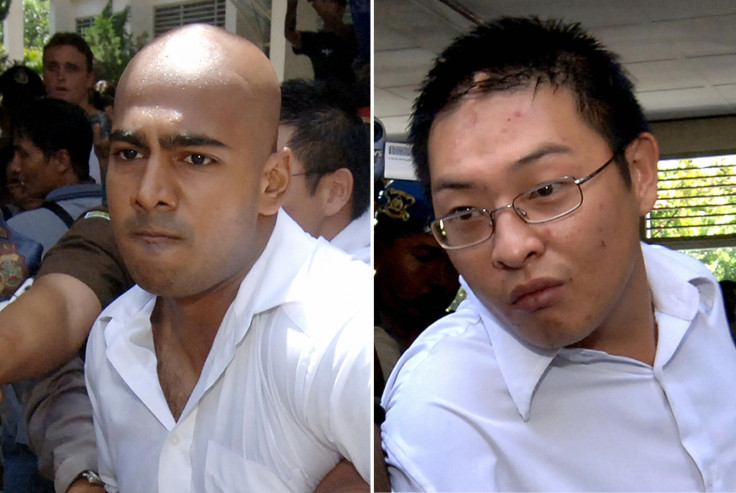 They went to their deaths singing.
Witnesses have spoken of the courage and dignity of the Bali 9 prisoners who were executed in Indonesia on 29 April.
According to the pastors, who were with them in their final hours, reformed drug smugglers Andrew Chan and Myuran Sukumaran and their six fellow death row prisoners, spent their last moments in prayer.
Shackled and in handcuffs, they were taken from their prison and led to a clearing in the jungle on the island of Nusakambangan in Central Java at 12.25am local time (3.25am AEST.) There they were tied to crosses positioned four metres apart. Their arms were outstretched with their wrists tied to the poles with white cable ties, and their legs tied at the bottom.
Their hearts were marked with a black cross for the 12 member firing squad to aim at. Refusing to wear blindfolds as they faced the firing squad, they sang together, the poignant song Amazing Grace.
Chan and Sukumaran, who had pledged to face the firing squad with "strength and dignity," died next to each other at one end of the line. For their last meal the pair had buckets of KFC.
The husband of Pastor Christie Buckingham, who gave spiritual guidance to one of the Australians, said his wife told him the men conducted themselves with "dignity and strength until the end".
Christina Widiantarti, a lawyer for the Brazilian convict and a witness to the execution, said: "The good thing is all prisoners were executed together while praying and singing. Before that they hugged each other, saying goodbye."
Father Charlie Burrows told News Corp Australia that as the men said farewell to the guards some were in tears.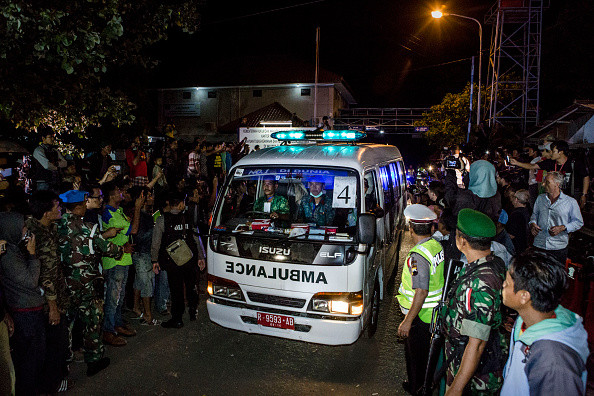 "When they were being put on the cross for execution they were singing on the crosses and we were in a tent not too far away from the execution place trying to support them."
Another pastor, Karina de Vega, said it was a 'beautiful experience'. "It was breathtaking. This was the first time I witnessed someone so excited to meet their God," Pastor de Vega told Fairfax.
It took 27 minutes for authorities to confirm their deaths. Following the executions, a law enforcement official was quoted as saying: "The executions went well, without any disruptions adding that they were shot at 00.35 and died at 01.02."
Members of the Chan and Sukumaran families joined a convoy of buses travelling behind the ambulances carrying the executed men's coffins, as they made the 10-hour journey to Jakarta.
The Guardian reported the bodies had arrived at a funeral home in West Java after 4pm AEST.
The others executed were Indonesian Zainal Abidin, Brazilian Rodrigo Gularte, Nigerians Sylvester Obiekwe Nwolise, Raheem Agbaje Salami and Okwudili Oyatanze, and Ghanaian Martin Anderson.
Mary Jane Fiesta Veloso, the Filipino drug mule who was the ninth convict sentenced to death, was given a last minute reprieve after new information emerged about her case.
Andrew Chan's devastated brother Michael told The Daily Telegraph that the 31-year-old was wearing his beloved Penrith Panthers rugby league jersey when he was executed. It was sent to Chan by Penrith forward James Segeyaro earlier in the year.
"He told me he was going to wear his Panthers jersey, and he did," said Michael.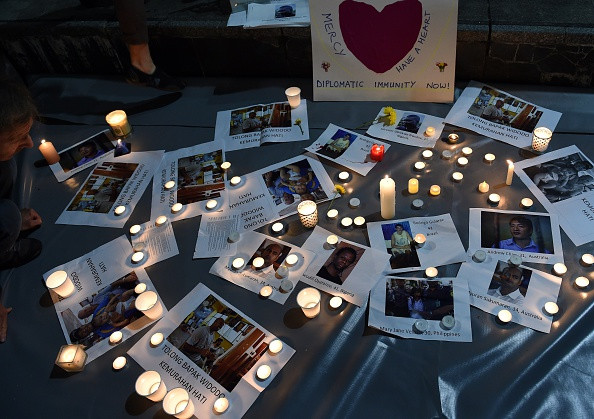 The families of Chan and Sukumaran released a statement following the executions.
"Today we lost Myuran and Andrew. Our sons, our brothers," they said. "In the 10 years since they were arrested, they did all they could to make amends, helping many others. They asked for mercy, but there was none. They were immensely grateful for all the support they received. we too, will be forever grateful."
Neighbours have laid flowers alongside burning candles outside the Sydney home of Andrew Chan's parents.
One of the pair's lawyers, Peter Morrissey, told the Nine Network: "It's a very sad time. The two boys are gone. They were beautiful blokes. It is really sad. We did have a good [legal] argument. We still have a good argument. We just don't have anything to [argue] it for. We'll all keep fighting the death penalty for sure but it's not going to bring the boys back."
The Indonesian government ignored pleas for clemency from the prisoners' families and Australian and international officials. Indonesia's attorney general defended their actions, insisting that the executions were a necessary part of the "war" on drugs.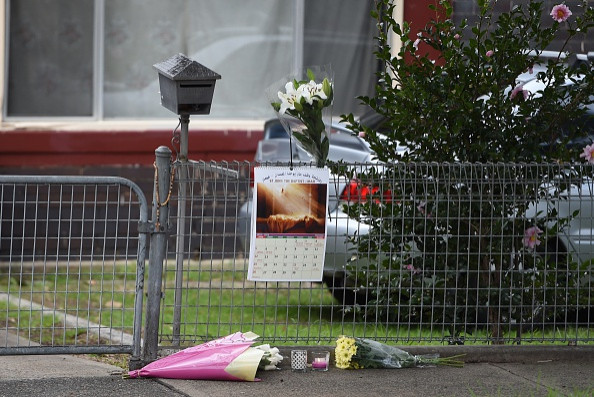 Muhammad Prasetyo said: "We are fighting a war against horrible drug crimes that threaten our nation's survival."
Confirming that Australia was recalling its ambassador to Jakarta, Australian Prime Minister Tony Abbott said the execution of his countrymen, Myuran Sukumaran and Andrew Chan, would have an effect on the countries' relationship.
"We respect Indonesia's sovereignty but we do deplore what's been done and this cannot be simply business as usual. I want to stress that this is a very important relationship between Australia and Indonesia but it has suffered as a result of what's been done over the last few hours."
The United Nations described the executions as "extremely regrettable, extremely sad" and reiterated its appeal for Indonesia to reinstate its moratorium on the death penalty.